Products & Services
Good things come to those who wait
Rachel tells the world about the new Guiness Blog.
She gives some interesting background to trying to get a major brand management company to introduce blogs. Thumbs up to the effort, I know it wasn't easy:
It's been a long journey from idea to reality for this site; long and varied conversations with the legal teams to ensure that a site would comply with our Marketing Code and allow the brand team to have a conversation with their consumers that would follow the principles in the document.
On a different note, Rachel mentions that she is with her old company for another two week and will be setting out as a freelance project manager. Well, we hope to use her expertise extensively in the immediate future and, in fact, can't wait.
Officially a PR crisis?
Tom receives an apology from the team who handle Cillit Bang, although he wasn't sure at first as the email domain is different. But then the first commenter pointed out it is from a PR agency specialising in handling PR crisis. Marvellous!.
He posts in full on his blog. Let me count the ways that raise my heckles about it.
The posting on 30th September was unplanned and an error of judgement and we unequivocally apologise for this. We recognise that it was inappropriate in context.
So the 'posting' was unplanned. Does that mean that every posting a brand would use on its blog (fictional or real) has to be planned?! Whatever happened to markets are conversation… And in any case, the 'error of judgement' happened in a comment on Tom's blog, not in a posting. But let's not dwell on detail when we have bigger fish to fry.
The Barry Scott character has appeared in a number of spoof websites and weblogs, created by people unconnected to the Reckitt Benckiser brand. The weblog posting on your site was not endorsed by Reckitt Benckiser or any of the advertising agencies that are mentioned and was a one off error from which lessons have been learnt. We are sorry for any offence it has unwittingly caused.
Oh dear. So to quote, Jamie, another commenter (some good stuff in Tom's comments section):
The say it was an error of judgement, it wasn't done by them, and they've learnt lessons.

We recognise that it was inappropriate in context.

I'd ask them to explain in which context it would be appropriate - and for a years supply of cleaning products.
I think I can follow Jamie's logic just fine - this seems like an old PR habit of never saying sorry, with the new mantra 'admit you are wrong' and the world will forgive you. Or something. Either way, it's not pretty communicated in a robot-like style.
And finally, they offer a personal apology, which is good, so why is the email signed by "Cillit Bang Team", not by a name of the person writing the apology?
And really finally, let's not forget the whole issue with fake blog characters and clumsy attempts by advertising/marketing/branding/PR companies trying to control this 'blog thing', shall we?
Hard Diamond…
... or can a blog be a master jeweller's best friend?
Last Tuesday I ventured out of our Chelsea ghetto to Bethanal Green in East London to visit a magical place, Paul Hatton's workshop where he designs and makes his jewellery. He has not appeared out of nowhere - Paul is an outstanding English jewellers and spent many years in Los Angeles where word got round the Hollywood stylists. As a result he acquired an impressive line up of customers - apparently Liv Tyler and Kim Basinger just can't live without his creations and cigar-smoking Jack Nicholson commissioned Hatton to make 12 ashtrays for him, one of which was a present for Michael Caine.
Enough of name dropping, it was a wonderful afternoon, talking alternately about jewellery and blogs - a combination that you'll see more often in the coming months as Paul wants to blog about his craft. I will be helping Paul in any way I can to turn his blog into a conversation with an increasing number of customers. Thanks to Hugh for arranging the introduction.
The first Paul's creation I laid my eyes on is this beautiful egg cup. My arty farty description: it combines modern simplicity with medieval opulence.
Paul's website is nice and clean with images of his jewellery and he already has a blog set up, Hard Diamond. This is where he shares precious (pun unintended) information about his travels, his creations and how to cut diamonds and why. The blog is there to let the world know about his passion for jewellery and about his business and helps him find those who want to own a bit of his story. The idea is to reach out to those who might appreciate Paul's art and commission him to create more beautiful objects for them.
So watch this space, as they say.

Blogs are good for sales - New Flash!
Finally, there are more articles like this: Blogs and Bling Bling: Companies See More Sales, Improve Search Position, this time from DMNew.com.
eHobbies.com, which says it has watched its conversion rate double from the normal 2 percent to 4 percent whenever site users visit one of its blogs. Since adding blogging to its site in May, 5 percent of the company's overall traffic comes from its main blog destination, www.ehobbies.blogs.com. In addition, 5 percent of all orders have recently tracked to a blog-based coupon.
And it confirms that, as Weblogs Inc people like to quib, that BLOG stands for Better Listing in Google.
Blogging also is paying off in the company's search engine strategy. As one example, the retailer has climbed from the 18th to the third position on Google when searching for Nomadio-branded digital radio control systems. The result occurred without paying for placement.
In the words of Seth Greenberg, CEO of eHobbies.com:
One of the great side effects of blogs is that they are search engine friendly. Once we realized this, we made a point to include better descriptions in blog posts. We look at blogs as an extension of our organic search engine marketing strategy. Paid keyword placements are costly and must be managed responsibly. We have thousands of products, so the more we show up organically in search, the less we need to rely on pay per click.
I always try to get people use pictures to add to what they are writing about. It adds another dimension and if you are going to let people in, you might just as well do it in style.
We try to lift up the covers and show the customers what is behind our operations, what our warehouse looks like. We want to show them the menu of our local sandwich shop and introduce our customers to our employees, who are also avid hobbyists.
Another case that brings joy to any biz blogger's heart:
Jewelry site Ice.com said its search performance has jumped since introducing blogs six months ago. The jeweler's keyword "diamond pendant" climbed from 31st to 16th in Google searches while "discount earrings" rose from 30th to sixth and "gold rings" ascended from double digits into the fourth spot. Page impressions at www.ice.com increased 30 percent in the period.
Full impact, with metrics such as ranks, impressions and search performance. Blogging sceptics, eat your heart out.
The truth is that any metrics to do with blogs should be used to see a different picture, not just a straightforward comparison with normal website metrics. For example, superior page impressions for blogs are a reflection of the nature of blogs - people go to blogs for different reason than they visit websites. Also, blogs are about sending people out to other interesting places, which means that the visitors come back for more.
The page impressions tell us that people are spending more time at the site because of the blogs and are more likely to both purchase and come back. The investment to blogs has paid off in the sales coming from them. However, we are not necessarily looking at sales as the end-all barometer. We are also looking at the whole package: PR, site ranking, traffic and being in the forefront of online marketing.
There are now more and more of these 'little' successes. By little I mean that the success stories can now be dressed in the kind of language that the 'media types' understand, which make them harder to ignore. I find myself focusing on individual artisans who are their own masters and the impact from blogging on their business is obvious and ultimately measurable. More on this later, so watch this space…
High mile blogging
So it has come to blogging about how to be productive when you are 30,000 feet in the air. Makes sense to me… but probably not to all those people who keep saying, well, I can see some how companies might use blogging but the range is rather limited. I mean, how can you have a blog about cheese, for example!
The new inFlightHQ.com has just started and is sponsored by Connextion by Boing. I look forward to reading as I'll be flying quite a bit in the next few months.
Studios notice blogs - for advertising…
For a new film, "The Constant Gardener," Focus Features is intent on building its audience in a different way: by taking aim at readers of niche Web sites and blogs.
So far, so good. Using a blog to spread the news about a movie. Hm, nothing new here. But wait, it seems that all this amounts to is…
Focus, an art-house unit of Universal Pictures, has purchased ads for "The Constant Gardener" on the political blog Wonkette, as well as the Web sites of politically oriented publications like Harper's, The Nation and National Review.
The news is that studios advertise on blogs?! I guess it is a big shift if all they did before is used ads indiscriminately everywhere. James Schamus, a co-president of the studio, says:
We looked for the places that sophisticated moviegoers seek out to find things that interest them. These are the people who are engaged with the world, who are informed about the big conspiracies going on out there.
I don't know about the big conspiracies and I have been hanging around the blogosphere for a while. The point of blogging is that things get a bit more transparent, on the whole. Or does he mean the various nutters who do peddle conspiracies online? A niche audience indeed.
The article lists several films where studios dipped their toes online.
Ever since the release of "The Blair Witch Project" in 1999, movie studios have strived, and failed, to replicate the groundbreaking Internet campaign that made that film a marketing phenomenon. These new ad campaigns on the Web suggest that studios are becoming more determined to identify and reach niche audiences online.
Blogging works. But not if you do not understand the audience and pigeon-hole it before you start, just like the marketing person at ThinkFilm that bought banners at the bawdy gossip sites Gawker and Defamer:
Some movies just lend themselves to online advertising. 'The Aristocrats' is dirty, it's obscene and it's unrated, which is sort of like the Internet itself.
How about it's free, dynamic and caters for all tastes… Geez.
But let's be positive, Seth Godin, whose blog is worth reading, considers Focus clearly ahead of the curve in seeking an audience based on online behavior. I wonder then what he'd make of the Blowing Smoke blog.
Another marketing wonk weighs in, Joseph Jaffe:
The movie is about getting people to talk about a social issue. Blog readers want to be able to respond and add their own points of view.
Spot on. And how exactly does one do that with an advert? Ah, you are supposed to interact…
The "Aristocrats" ad also invites visitors to submit their own version of the film's unprintable joke. ThinkFilm, which has an advertising budget well below the $30 million that major studios typically spend, is hoping that this interactive component can propel an ad throughout the Web, creating a cost-effective campaign.
Note the language, it is 'the interactive component' that is going to 'propel the ad' creating 'a cost-effective campaign'. Not you and me, dear reader.
Apart from taking issue with pretty much everything in the article (my favourite gripes on my blog have been about marketing and advertising, for those who don't know me), I am blogging about this because it points to a trend that is obvious to most people engaged with blogs. The big guys are starting to notice although they can't seem to get 'engaging' any time soon:
Studios need to stop trying to reach the most people and focus on reaching the best people.
Indeed. But don't stop there, try to do more than just target interactive adverts at them…
cross-posted from Blowing Smoke blog
Optimised blogging
Search Engine Optimization, Inc. a full service search engine optimization firm is blogging at SEO Inc. Blog .
...blog dedicated to search engine marketing. Readers of the Blog will be able to keep track of emerging search engine marketing trends and read valuable analysis from experts in the field.
It didn't hurt, did it?
SEO Inc. saw that there was a definite need for an extensive Blog dedicated to search engine marketing from the agency point of view. Additionally, SEO, Inc. will be using the Blog as a news outlet. The SEO, Inc. Blog aims to provide companies interested in search engine marketing with detailed information so they can make better marketing decisions. The Blog also caters to search engine marketing professionals looking to keep updated on the most current events within the search engine marketing space.
That's about right, I couldn't come up with better reasons to blog myself - SEO junkies have another place to hang around now. I know sounds far more exciting than it really is.
Trump thud
Donald Trump has a blog! Trump University is its name, with a tagline Ideas and opinions from Donald Trump and his circle of experts.
Well, to each his own, but the point is that he's joined the ranks of bloggers… Or has he? The comments are moderated. That, of course, is no major sin as there are many trolls, spammers and blogroaches out there. But Mr Trump seems to employ some PR people to nicely spin any comments that might land on his blog.
Ike Pigott posted a comment to Trump's blog, nothing drastic, to see if it clears the screening process:
Mr. Trump, welcome to the world of blogging. I'm sure you'll find this forum an excellent model for feedback.

Regarding your statement: "My career is a model of tough, fair dealing and fantastic success--without shortcuts, without breaking the law."

How do you reconcile a claim such as that with the Vera Coking case in Atlantic City? While it is true you have broken no laws, most people will associate your use of eminent domain as a violation of "fair dealing" and "without shortcuts." (Especially in the political climate we are in post-Kelo v. New London.)
And this is how the comment appeared:
Mr. Trump, welcome to the world of blogging. I'm sure you'll find this forum an excellent model for feedback.
I think I'll just use BL Ochman's message to Donald Trump:
Gimme a break!

You don't want to run a comment, don't run it, but don't freaking edit a critical comment into an endorsement. Puh-lese.

Donald the Blogger: You're fired. And your trackbacks don't work either!
Not much to add to that. Well, apart from that trackbacks can be a bit iffy.
Doing it my way, all the way…
And that is exactly what Kamal Aboukhater, the producer of the movie Blowing Smoke, has just done. He has produced the film his way - deeply un-PC screenplay about cigars, men and women using cutting-edge digital technology - and now he is releasing the movie via the Blowing Smoke blog.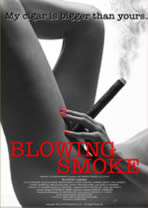 So having done all that, getting good people on my side working with me, I didn't want to become a slave to anyone. I didn't want to wait for my movie to travel up the long and tedious chain of command until someone finally made a decision to release it.

... There will be no waiting. I can, audience willing, get immediate response and won't be at the mercy of a movie studio or distributor. One thing I have learned about audiences, thanks to blogs, is that they are not a unified mass of "consumers." They are individuals, choosing something (like what to watch) for many and varied reasons. Some might want to watch Blowing Smoke because they like cigars, some might be drawn to the poker, and others may want their opinions about women and men confirmed. Whatever the reason, now they can do so easily. And, if they feel like it, they can let me know their reactions and opinions.
And he really does not like the studios, but he seems to like bloggers:
Major studios seem to be the last to adopt and adapt to innovation and trends. And, just like with video and DVDs, they are again missing the boat, unaware of the new possibilities for reaching their audiences. They might have caught glimpses of the future, such as Firefly, Global Frequency, and Garden State. This is thanks to a new band of warriors, better known as bloggers, who add strength to the voice of the fans, fighting for more choice for themselves and, in the end, all of us.
The point is that he can go all the way to his audience, by-passing the intermediaries. Sure, the path is not clear, the journey may be either uneventful or too bumpy, but Kamal is aware of the experimental nature of what he has done. He is enjoying the comments from those who understand and appreciate what he is trying to do. As he said after the 'launch':
It's no longer just about the movie but about an opportunity to add another dimension to the infrastructure that's already there - the blogosphere and the internet.
It has taken a while to get to this point both in terms of understanding and then realising the idea. I feel privileged to have been part of that process and enjoy working with Kamal whose open mind has been instrumental in this adventure. In return, he can be blamed for my blossoming addiction to cigars, the quality of which would make any cigar afficionado weep with joy, or envy. Whilst discussing the final details of the Blowing Smoke 'release operation', I savoured a particularly good Hoyo de Monterrey. Who says the days of plotting in smoke-filled rooms are over…
I shall leave you with an exhortation: Boxed BS available now! Get your own! Oh and, BS download is Coming Out Real Soon Now!
cross-posted from Media Influencer
Bob Lutz: To blog or not to blog?
General Motor's 'executive' blogger, Bob Lutz is giving an insight into his experience with blogging in Information Week. He talks about the importance of unfiltered conversation, showing the bad with the good as a means to buildling lasting credibility. Sounds familiar?
His concluding advice is obvious given the success of the Fast Lane blog:
To me, the blog is a way for GM to be culturally relevant. It allows us to be on the leading edge of new technology while getting our strong views out there about our cars and trucks. So far, response has been outstanding, with more than 5,000 visits and 13,000 page views a day.
To any senior executive on the fence about starting a corporate blog, I have a word of advice: Jump.
Told you so.
For those who can't get enough of Bob Lutz, here is an interview he gave to AutoWeek.
via NevOn and cross-posted from Media Influencer
English Cut above the rest
Now this is a fabulous blog! English Cut is a blog by a bespoke Saville Row tailor writing about suits and… tailoring and whatever else he feels like. He uses it to promote his bespoke craftsmanship and, by Jove, he's got it.
The blog is full of interesting information about bespoke as presented by someone who knows a thing or two about it. I have learnt about the different between straight and crooked suit jacket, which has nothing to do with the character of the wearer.
Thomas also gets to make his argument for the high price charged for bespoke… this is what blogs were made for. He is travelling - the US in June, Paris in July - and provides details of his journeys with the option of making an appointment. How on earth could this have been done before blogs came along? Perhaps with a help of an expensive PR agency, but inevitably loosing that personal touch and straightforwardness that I am sure transactions with Thomas have.
Carry on, tailor.
Kensington - another Kryptonite?
There must be something with the combination of a letter K and a lock company… Kensington is another lock manufacturer to get their product 'exposed'. Gizmodo reported that apparently all you need to break into a Kensington laptop lock are some scissors, duct tape and a toilet paper roll. As with Kryptonite, we have a video (WMV, 7.5 MB) of someone cracking the popular laptop lock in just two minutes."
The blogosphere is 'conversing', asking about the Kensington's PR agency… Lary Borsato alerted them to the video and the 'buzz'. It took a PR wonk two days to get back to him with this stellar response (the comments following his posts are interesting too):
Hey Larry,

Thanks for getting in touch with me. I was out of the office the past two days, so I didn't get your e-mails until this morning. I appreciate your input. We've seen the video, and we're producing a response.

We've found that the affected products are limited to a small batch of locks, and Kensington is offering replacements for those. I'd like to hear about any more insight you can offer.

Thanks Larry.
Note the we're producing a response bit! I mean assuming Larry wasn't the first one to contact them, just how many days does it take to react to a product meltdown?! Given such profound lack of agility and understanding of 'public relations', it's good to see the PR firm being named, it's Connecting Point Communications. And nothing really happens here. On the bright side, Steve Rubel coins a new verb in PR: Kensington Lock Kryptonited.
Amazingly, The GadgetGuy blogged about such lockpicking (both Kryptonite and Kensington) last year. Maybe the blogosphere is not fast enough too. Faster, blogs, faster.
Quote to remember
I've not done well in the newspaper coverage. The Internet is a way to get my message out to people who are wired.
- Supervisor Chris Daly, San Franciso, who has begun a blog (actually just a site with entries that are called blogs) to counter what he feels is biased reporting in the local paper.
Quote to remember
The blog as business tool has arrived.
Some eight million Americans now publish blogs and 32 million people read them, according to the Pew Internet & American Life Project. What began as a form of public diary-keeping has become an important supplement to a business's online strategy: Blogs can connect with consumers on a personal level—and keep them visiting a company's Web site regularly.
- Riva Richmond, WSJ, Blogs Keep Internet Customers Coming Back
Serenity blog does not take off
Firefly is one of my favourite sci-fi series. It is not very long and so I was pleased to hear that they are making a film based on the characters, called Serenity. As I clicked through to the movie site, there is was, a link to Serenity blog in the middle of the page. My heart leaped and I followed…
But alas, although the web page looks cool enough, in a kind of understated, couldn't-be-bothered way, the blog is a blog only in the name. It has been set up in June 2004 and the last entry (there are five in total) is from September 2004. Shame since the content is interesting. But the worst crime is no permalinks - a major omission and so the jury says this ain't no blog. Further, no comments - how are the fans supposed to engage? Also, no links to other movie blogs or site - how is the blogosphere to get a look in? But it's got RSS. I wonder what for…