"Oh wow, that's a big blog you've got there!"
Projects
Stuff we are involved with
Doing it my way, all the way…
And that is exactly what Kamal Aboukhater, the producer of the movie Blowing Smoke, has just done. He has produced the film his way - deeply un-PC screenplay about cigars, men and women using cutting-edge digital technology - and now he is releasing the movie via the Blowing Smoke blog.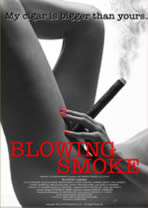 So having done all that, getting good people on my side working with me, I didn't want to become a slave to anyone. I didn't want to wait for my movie to travel up the long and tedious chain of command until someone finally made a decision to release it.

... There will be no waiting. I can, audience willing, get immediate response and won't be at the mercy of a movie studio or distributor. One thing I have learned about audiences, thanks to blogs, is that they are not a unified mass of "consumers." They are individuals, choosing something (like what to watch) for many and varied reasons. Some might want to watch Blowing Smoke because they like cigars, some might be drawn to the poker, and others may want their opinions about women and men confirmed. Whatever the reason, now they can do so easily. And, if they feel like it, they can let me know their reactions and opinions.
And he really does not like the studios, but he seems to like bloggers:
Major studios seem to be the last to adopt and adapt to innovation and trends. And, just like with video and DVDs, they are again missing the boat, unaware of the new possibilities for reaching their audiences. They might have caught glimpses of the future, such as Firefly, Global Frequency, and Garden State. This is thanks to a new band of warriors, better known as bloggers, who add strength to the voice of the fans, fighting for more choice for themselves and, in the end, all of us.
The point is that he can go all the way to his audience, by-passing the intermediaries. Sure, the path is not clear, the journey may be either uneventful or too bumpy, but Kamal is aware of the experimental nature of what he has done. He is enjoying the comments from those who understand and appreciate what he is trying to do. As he said after the 'launch':
It's no longer just about the movie but about an opportunity to add another dimension to the infrastructure that's already there - the blogosphere and the internet.
It has taken a while to get to this point both in terms of understanding and then realising the idea. I feel privileged to have been part of that process and enjoy working with Kamal whose open mind has been instrumental in this adventure. In return, he can be blamed for my blossoming addiction to cigars, the quality of which would make any cigar afficionado weep with joy, or envy. Whilst discussing the final details of the Blowing Smoke 'release operation', I savoured a particularly good Hoyo de Monterrey. Who says the days of plotting in smoke-filled rooms are over…
I shall leave you with an exhortation: Boxed BS available now! Get your own! Oh and, BS download is Coming Out Real Soon Now!
cross-posted from Media Influencer
September 22, 2004
Wednesday
tBBC client launch: Ideal Government
tBBC is pleased to announce the launch of the Ideal Government blog for our clients at Kable, one of Europe's leading providers of publishing, research and events in the public sector. As the blurb says:
You're a web user. What do you think ideal e-enabled public services should look like?

The UK is spending a lot of money and effort computerising government. Let's get a clear idea what we want it to look like when it's done. Dream a little, and help set out the wish list. Otherwise we might end up with something we do not want.
Ideal Government will be a four-week online brainstorming session via blog, with thousands of civil servants invited to participate. Members of the public are also welcome to have their say - as commenters and, with the agreement of the Ideal Government team, as contributing authors on the blog. In the end, the best ideas (duly credited) for how e-enabled government services should work will be sent to the Prime Minister Tony Blair, as well as other key politicos, the UK government's new CIO, Ian Watmore, and efficiency review process boss, John Oughton.
It will be interesting to see how this experiment goes, and we are very happy to help Kable engage the blogosphere to get the ideas and input they are after. Best of luck, chaps!