The Big blog company still around
...but my writing has moved some time ago to Media Influencer. It is my own blog that covers much more than blogging. So below are the posts from my other blog for those interested in what I still have to say.
Too much talking?
Last Wednesday I spent most of the day at Online Information, the world's no.1 event for online content and information management solutions, in Olympia, London. Alright, that's a receipe for corporate-style boredom but I got to me meet and talk to several interesting people.
In the morning, I was chairing a panel with an impressive line up of people talking about Social Software - Delivering value to 21st century organisation. Alex Bellinger, Ewan McIntosh, Rob Scoble and Ben Edwards were discussing pretty much anything related to that.
My intro was simply deconstruction the title of the panel. What does social software mean? What is a 21st century organisation? What kind of value are we talking about? And can it be 'delivered'? Perhaps it is no longer about 'delivering' but about enabling, introducing, optimising, sharing, innovating and gasp, inspiring…
The main focus for me was value and the objective was to give the audience ideas of where to look for the value of social media/software within their organisations. It may be that the value they bring is not vague or hard to identify but that it is multi-dimensional. Perhaps it manifests itself in several areas which do not correspond to the silos so beloved of business structures.
How about the following framework for where to find the value social media and social software brings?
Individual empowerment - helps individual employees with their tasks and everyday job; easier information managenent via RSS, tagging, social bookmarking for example, awareness of people within the organisation via their blogs etc
Organisational empowerment - enables the organisation to do, connect, carry out functions that were not possible before; communications and information flow, exnternal engagement of markets, community, media, customers etc.
Specific level - projects that are easier and faster carried out, e.g. using a wiki to organise an event or collaboratively produce a manual, or using a blog to document a project etc.
Systemic level - processes that emerge as a result of extended use of social media/software. People making connections that speed up existing processes and/or give rise to new ones. Communication channels and networks that overlay the silos and dysfunctional processes. Innovation and creativity that would not manifest themselves otherwise.
There was another panel with the same people (plus Matt Locke who couldn't join us in the morning), this time chaired by Phil Bradley. Phil was a lot more strict than I as the moderator, especially needed as there were two more people in the conversation. I do prefer 'conversational' panels to powerpoint and it was good to see people thinking on their feet. I hope to talk to them again, there seem to be more and more people around who understand what will drive the changes inside organisations.
In between the two panels at Online Information I rushed off to another conference, Click Forum 2006 (Creative Review's 2nd Annual European Online Creative Advertising Forum). It was taking place in Parsons Green, not too far from Olympia. There I joined the panel about Blogs, online communities and interactive environments. I particularly enjoyed meeting Tim Ryan, director brand marketing at AOL. He very kindly gave me a lift back to Online Information, in the car we have frantically talked about the state of the media industry and the future of agencies and marketing. Suffice to say that we agreed, make of it what you will, dear reader.
After all the conferences, it was off to a London Girl Geek Dinner, where the Scobles were guests of honour. It was a long day with social media overload but well worth it.
cross-posted from Media Influencer
How to implement social media in business
Here is the process, step by step.
ROI for blogging
Absolutely!
NAB Visa Mini or marketing gone haywire
This is what happens when marketers try to be trendy these days. The result is the most ill-considered banking product ever devised.
...a National Australia Bank (NAB) Visa Mini - confoundingly counter-intuitively, this card's most notable feature is that it's about half the size of a conventional credit card. Apparently this distinction alone will irresistibly and relentlessly reel in the target demographic - fashion conscious twenty-somethings (I think that might include me!) - but NAB has other slick devices in store to simultaneously deliver a KO in the coolness heavyweight championship of the banking world whilst obfuscating the somewhat steep interest rate levied on any transactions billed.
Well, perhaps all could be forgiven if the cool level was sufficient. But not when combined with plain dumb.
Why not hang your Visa Mini on your mobile phone using the purpose-built attachment, o budding sophisticate? Does it look cool, and it is also great for the person who finds your misplaced Nokia; if they exhaust your mobile credit telephoning Siberian astrologers, they'll be thanking their lucky stars because instant replenishment is quite literally on hand! Now that is convenience.
and,
For the truly elite - the style aristocracy - why not subtly incorporate the Visa Mini into a piece of bespoke jewellery, like so? Yes, it probably would require less effort to don a prominent sign displaying "ROB ME" painted in large flourescent letters and then wander down the darkest, dodgiest backstreet alley in an effort to discover a smackhead suffering profound withdrawal symptoms so you can shove your Visa Mini between his chattering teeth. But that's simply not how they do it in Europe, philistine.
or it just plain don't work!
...what if the cardholder wishes to transact via an automatic teller machine or a manual imprint device or a vertical-loading swiper unsuited to such generation-NEXT Mini cards? Oh ye of little faith, those clever folk at NAB and Visa are one step ahead of the likes of you and I. If you are one of the select fashionistas who manages to successfully obtain a Visa Mini card, you will also receive a Visa Mini Companion Card, known in-house as Visa non-Mini Mini, which financially functions identically to your Mini card as it is linked to the same credit account. Instantly, it should be obvious to all that the inclusion of this extra card represents rare value - two cards from just one application! - but do not neglect to observe that the Companion Card has also been ingeniously designed to share the exact same dimensions of a conventional bank card!
Interestingly, there is a comment by a reader on one of the product review sites, which rings a bit, well, shall we say false. I just wonder to what extent Ms Caroline Liang's summer job is related to marketing… But let's not dwell on the detail. Let's go for the big picture.
This is where marketers 'lose it'. Blinded by the number of trends and deafened by the noise of the mouse-clicking, iPod-carrying, mobile-wielding Generation XYZ, their unerring instincts tell them that combining all that with a financial product AND accessories is a sure way to grab that desirable 'demographic'. Based on their fundamental misunderstanding of who creates and 'provides' for a growing number of 'consumers', their fate is looking less inspiring than this accesorising suggestions for the Visa Mini.
Quote to really remember
We like conformity. Sadly, sometimes we confuse it with teamwork. Or much worse, we assume noncomformity to be anti-team and disloyal. The Road to Ruin. This, despite all superficial commitments to the valiant efforts of the Myerses and Briggses and Belbins of this world telling us that diverse balanced teams are good.
In something approaching real tragedy, many organisations go through a painful process of attracting and hiring people with a difference to make a difference; then spend forever driving the difference out of the person. Immensely frustrating for all concerned. Blogs can help prevent this.
We should stop thinking of blogs as just individual soapboxes, it may be the way we learnt about them, but it's not the way we're going to learn from them.
They're very powerful conversation enablers; they help people express care and concern and dissent in non-threatening ways; they help avoid mutual-admiration-society selection bias; they build trust amongst teams; they exposes heresies and cancers; they prevent me (and people like me) from believing in our own propaganda.
Blogs are but one tool in helping us with those selections.
One tool. An important tool. One we did not have before.
Cass R. Sunstein in Why Societies Need Dissent
via JP
The Grinding reality of marketing blogs
I came across this gem earlier today and a classic example of what Jackie and I call 're-inventing the bandwagon'…
Eight O'Clock Coffee Co. is energizing coffee drinkers and its brand with a new blog that invites customers to share their gripes and thoughts about life, work and coffee.
The blog, called The Grind, follows the storyline of a working mother of two who writes about her daily life, and invites visitors to share their own experiences. The first blog entry begins with a quick recap of the weekend and talks about the blogger's boss, nicknamed "Snobicus," and asks advice on how the blogger can break the ice with the chilly boss.

The goal is to connect consumers to the brand in an interactive format, said Jeff Maloy, Eight O'Clock senior brand manager. The blog will run for six to eight weeks.
This is so bad. How shall I count the ways?
Working mother of two - what's her name or is this just a target demographic that came highest? Doubt it so please, enlighten us… Hang on, I got it. Her name is Eight O'Clock Coffee, it sayz on the blog - posted by Eight O'clock Coffee.
Interactive format - comments are good, but no need to asnwer every crank in the comments section, especially it is the first comment on the first post and the answer is the second post on the blog. Or is it someone from the agency who set up the blog trying to 'crank up' (sorry) the new interactive engine of the Eight O'Clock Coffee Co? Oh way, I can download a coupon and watch two TV spots. I take it all back...
What's with the blogger.com used as blogging platform? It sucks. Really. The worst comments facility ever, even some more benighted blogger.com users use Haloscan to get away from indigenous comments (dis)functionality. But I digress.
The blog will run 6-8 weeks? That's marketing-campaign mindset talking. Sigh.
Perhaps time to be constructive? A coffee blog I want to see tells me about coffee, its history, flavours, pictures, coffee-making tips (OK, there are some on the Grind blog buried at the bottom in small print), baristas, growers, geeky facts about espresso machines etc etc - themes and topics abound.
And then there is the Ristretto Roasters weblog, set up by Jackie Danicki and run by Nancy Rommelmann, the founder of Ristretto Roasters, an artisanal coffee roasting company with its own café in Portland, OR. I know which blog I'd rather read.
Update: Just noticed that the article in PROMO magazine says that Eight O' Clock handles the Web site and blog in-house. I take a shot at the imaginary agency back. It still leaves plenty to gripe about…
cross-posted from Media Influencer
Quote to challenge
We have to recognize the role of the consumer as creator. That's the first time this has happened in history.
-Ajaz Ahmed, AKQA, Red Herring article
First recognise that they are not 'consumers'!
Marketing is God
This has to be blogged…
#
The one and only Hugh MacLeod.
What MySpace means
Last week I was at an Engagement Alliance event, What My Space means, which took place at a rather cool location, the Charlotte street hotel's screening room (as in private cinema) - from 2 to 6pm. There was an excellent and varied line up of speakers (yes, yes, I was speaking) and I thoroughly enjoyed the event. There vibe was different, somehow more intimate and relaxed. Congratulations to Jackie for organising it all.
I spoke about social networking and My Space in that context. I have been travelling and only had a chance to post my notes now.
Social networking and concept of community, powerful enough for corporations and businesses to notice.

I define community as a network with a purpose, theme, topic and with specific motivations behind individuals participation. Not just a fuzzy notion of a collective space, this may sustain the community but not kick-start it. So we have music, dogs (Dogster), teenage angst (MySpace) dating and socialising.

The blogosphere was the original social network, open and mutating. Several times the landscape shifted – political blogging, metablogging, business, marketing, PR, academic blogs etc.

I talked about three aspects of social networks – the physical or 'geographical' aspect; the human aspect and the business dimension.

The sheer scale of the social networking phenomenon is has taken us by surprise. Online has been bridging physical locations. Technology makes it easier to do certain things – connect & publish and communicate on an unprecedented scale. This scale may be changing certain human and social behaviour – we have increased capacity to maintain large social networks. It is said that a human mind cannot handle more than 150 people as contacts at a given time. Social networking online may be increasing this limit or helping to reach this limit faster for more individuals. Similar to mobile phone – we are able to do more, have more meetings and conversations, managing to squeeze in more as ad hoc become a modus operandi.
Human aspect – social networks are a very non-commercial and non-rational space. Emotional and oddly intimate – aspect of human psyche usually capture and catered for by families, tribes and religions. Another thing that is changing within this space is the nature of authority. Quote about checking out peoples MySpace pages to find out more about them. Teenagers are able to create their identity; they understand the discrepancy between the image and reality – learning out to filter out. Credibility and authority emerging differently, not through 'certification' by a third party.
Business dimension – this fundamentally non-commercial space in contrast with the manner it is done (i.e. emotional and social) is fulfilling a market function when it comes to communication and information. As a place for conversations, it is where the demand side is supplying itself (Doc Searls), the media and marketing are not the sole sources of information. Also, the distinction between consumers – producers – distributors/agents/publicists is blurred. "Artists have become their own agents, musicians their own record labels, and video makers their own broadcasters. And everyone on Bebo and MySpace and Facebook has become their own publicist, shouting Me Me Me.

Finally, disruption is never expected/anticipated and cannot be prepared for in detail/specifics and using the old models to monetise social networking may be counterproductive. This is because the internet and online treats any control or censorship as damage and re-routes around it.
Social engineering via USB
Alec Muffet has an interesting article about the clash between the human nature and the manner in which companies try 'secure' their networks. He says:
… the reflex I have seen in some City institutions which try to ban iPods, USB sticks and the like, from trading floors and other sensitive environments.

That won't work - as JP [Rangaswami] approximately put it, if you want [me] to do that, you'll need to give me the privileges to stop-search the employees and go through their briefcases, pockets, and check what their phone can do; the result will be oppressive chaos.

The proper response is one of embrace and control, that if employees are going to make use of whatever technology [USB, iPod, WWW, Instant Messenger, 802.11, ...], some facility needs to be made to filter and sanitycheck the means to which it can be put, and that you make the means and constraint transparent and well-advertised to your employees.

In short: be fair, and be wise. It might cost a little more in the short term, but will retain respect, employees and be more effective than the "ban everything" approach.
Amen to that.

Psychotic Kermit the frog
This kind of advertising works for me!
via Samizdata.net
Social media and blogs forum
Last Wednesday came and went. I was good fun, both during the day and evening. Days before the conference were busy and Lloyd managed to do three podcasts with speakers - Euan Semple, Lee Bryant and me.
Jackie Danicki took some good notes and reproduce them in a meaningful way on her blog. Lloyd Davis has blogged on the conference blog about his impressions from Open Space session and put some pictures on Flickr. For more, there's Technorati.
Excuse for a blog party
When we heard that Shel Israel is coming to London to speak at the Content 2.0, Jackie and I thought of getting a few like-minded people to meet him and have a… conversation with one of the authors of Naked Conversations. And a drink or two, or three.
The party will take place on June 5th (Monday), in a private house where many a blogger bash has succesfully taken place. We do not mean to exclude but the number are limited, for obvious reasons. Jackie's organisational genius is just the thing to make it a fun evening, so if you want to join us email her at dynamist at gmail dot com.
Quote to remember
As creative as your organization may be, the community at large will always be more creative.
- RedMonk analyst Stephen O'Grady in From Web page to Web platform
Social media and blogs event in London
The Blogs & Social Media Forum takes place on Wednesday 17 May at the Hilton London Metropole Hotel (£350). This is an event designed to bring social media closer to businesses. I have been working with VNU to make the conference a bit less formal and more involved for the delegates. It is still difficult as experimenting with formats is all very well but for the need to make it commercial viable interferes.
There will be no powerpoints (or very few, I hope), the sessions are short, focusing on case studies and the panels conversational rather a series of presentations. We are trying to get the speakers down from their 'elevated position' and the main afternoon session is 'Open Space' with the panelists and a few other speakers going into a huddle with the delegates.
I find that the most interesting conversations at conferences happen during the coffee breaks and the open space is an attempt to bring the coffee break style of interaction to the main auditorium. Lloyd Davis and Johnnie Moore are going to facilitate this session, as open doesn't mean unstructured. It means that the structure is invisible and far more flexible as the power to determine the topics and lead the discussion falls on the audience. Lloyd and I went to check out the venue, Hilton Metropole today to see if we can arrange the rather formal settings into something a bit more relaxed. I am hoping that we can get the panelists and speakers away from tables, breaking down the division as far as possible. Whilst still fulfilling the purpose of the conference – inform, share knowledge, discuss and further understanding of social media in business [end of a serious business voice]. This is the official blurb:
Examining the impact of wikis, blogs & RSS, this one day forum will combine expert industry insight from leading thinkers in the field of social media technologies with real life case studies. The programme offers an unrivalled learning experience addressing the following challenges:
Choosing the medium - wikis, blogs, RSS – where is the value?
The risk and reward of social media
How you can communicate and collaborate in your organisation
Podcasting as a business tool
Understanding social media's ROI
The future of social media and web 2.0 - where's it all going?
The speakers will be a mixture of old and new, hoping to provide a balance between the bigger picture and the practical applications.
Christopher Barger, Blogger-in-Chief, IBM
JP Rangaswami, Global CIO, Dresdner Kleinwort Wasserstein
Raymond C. Jordan, Vice President, Public Affairs & Corporate Communications, Johnson & Johnson
Adriana Cronin Lukas, Partner, Big Blog Company
Jeff Clavier, Managing Partner, SoftTech VC
Euan Semple, Independent Consultant and ex-Head of Knowledge Management at the BBC
Ben Hammersley, Journalist for British Press (The Times, The Guardian and The Observer), and the Author of Content Syndication with RSS
Jaap Favier, Vice President, Research Director, Forrester Research
Jackie Danicki, Founder, Engagement Alliance
Jason Korman, CEO, Stormhoek Wine
Alec Muffet, Principal Engineer, Sun Microsystems
Lloyd Davis, Perfect Path Consulting, UK
Johnnie Moore, Johnniemoore.com
Loic Le Meur, Executive Vice President and General Manager, Six Apart, France
Ruth Ward, Head of Knowledge Systems and Development, Allen & Overy
The full details of the programme are here. I look forward to seeing you there.
Bad news for office Luddites…
... that is how an FT article about social networking and media in workplace begins. I do not normally link to subscription sources but this article was too good to miss and I'll quote the bits that make the main points.
The next wave in office productivity, represented by wikis (editable websites), blogs and other social networking technologies, is here. Experts say these tools will transform the way work is done by encouraging new types of collaboration.
This is a point I have been making for some time. It's difficult to demonstrate the benefits of wikis and blogs (and tagging) to companies who operate on measurement and metrics only. The thing about the whole Web 2.0 (before it became an annoying buzzword) is that you cannot foresee what impact the activity of many individuals will have on the network and its dynamics. Many people doing their own 'thing' - blogging, organising events via wikis, uploading photos, bookmarking web pages, aggregating their knowledge, etc, give rise to phenomena that leave most business types scratching their heads, wondering what it all means. Well, it's the emergent, stupid. Nobody could have predicted or planned or justified something like Wikipedia before it happened. As for business applications, the trick is to provide clear parameters to avoid unacceptable risks.
The article mentions some respectable companies such as Google and Dresdner Kleinwort Wasserstein as believers in the brave new world of wikis and blogs.


Every Google employee can create a blog and contribute to the company's internal wikis. Social technologies play an essential role in keeping the creative juices flowing and also help Google keep track of its rapidly growing numbers of ideas, projects and employees.

....

More than 450 DrKW employees have internal blogs and the bank has built an internal wiki with more than 2,000 pages which is used by a quarter of its workforce. After just six months, the traffic on the wiki exceeds that on the entire DrKW intranet.
This is what JP Rangaswami says about his experience with blogs and wikis within DrKW:
We recognised early on that these tools would allow us to collaborate more effectively than existing technologies… Using wikis is much more participative and non-threatening, as people can see what other people have suggested…
And most importantly:
Is blogging a good use of company time? They are going to have these conversations anyway – in the lift, for example – and if the topic is boring, people lose interest. It is self-policing.
Indeed, you won't get the creativity, collaboration and innovation that most businesses profess to want without letting individual employees assert and reclaim their sense of identity and value. And this cannot happen if you box them in metrics, return and objectives that do not take into account the emergent impact of social media and tools.
Quote to remember
Social software is the experimental wing of political philsophy, a discipline that doesn't realize it has an experimental wing. We are literally encoding the principles of freedom of speech and freedom of expression in our tools. We need to have conversations about the explicit goals of what it is that we're supporting and what we are trying to do, because that conversation matters. Because we have short-term goals and the cliff-face of annoyance comes in quickly when we let users talk to each other. But we also need to get it right in the long term because society needs us to get it right. I think having the language to talk about this is the right place to start.
- Nat's notes on Tim O'Reily's blog on Clay Shirky's talk at ETech.
NYC Geek Dinner
I am organising a NYC geek dinner for 23rd March as the last one was hugely enjoyable (at least for me!). Details are on this wiki, so please sign up, if you are in the area and feel like meeting up.
Good things come to those who wait
Rachel tells the world about the new Guiness Blog.
She gives some interesting background to trying to get a major brand management company to introduce blogs. Thumbs up to the effort, I know it wasn't easy:
It's been a long journey from idea to reality for this site; long and varied conversations with the legal teams to ensure that a site would comply with our Marketing Code and allow the brand team to have a conversation with their consumers that would follow the principles in the document.
On a different note, Rachel mentions that she is with her old company for another two week and will be setting out as a freelance project manager. Well, we hope to use her expertise extensively in the immediate future and, in fact, can't wait.
I have seen the future and it blogs
Clive Davis is trying to strike a balance but blogs still come on top in his Times article:
Ultimately, however, I remain optimistic. For one thing, conservative bloggers still tend to be more tolerant of dissent than their left-wing counterparts, many of whom are about as much fun as superannuated members of the Militant Tendency. More importantly, if American bloggers often take a superficial view of Europe (we all sit on street corners begging, apparently) Europeans must take some of the blame. There simply aren't enough of us out there working the internet. For some reason, the habit still hasn't fully taken root on this side of the pond. Which means that, unless we rise to the challenge, the stereotypes will only get worse. Pardon my franglais, but the time has come to say "Aux keyboards, citoyens!"
A few good men and women…
We are looking for several people who can work with the Big Blog Company. We have been bringing blogging to businesses in the UK for the last two years as a small team of dedicated and by now weathered professional bloggers, who need more bodies to capture the demand coming our way.
Two 'blogging experts' i.e. people with considerable blogging experience of their own and with understanding of the blogosphere, with its network and social dimension.
The focus is on communications and interaction as relevant to businesses and their audiences rather than just blogging. We need bloggers who would like to make a living from their experience of running their own blog and interacting with other bloggers. The job is not writing and blogging for clients but demonstrating and explaining the practice and to some extent the theory behind the dynamics of the blogosphere to them and assisting them with applications of that to their businesses.
Technology skills are welcome but people skills are more important. We supply much of the knowledge, so there will be much to take in at the start. The Big Blog Company has extensive experience in promoting blogging in the UK and we have developed several principles that are the core of our expertise. Of course, own input is welcome and an open mind essential.
The 'blogging experts' would work on development of new services as well as on particular projects and be integral part of the company. The job comes with a monthly retainer as we will need continuous focus on development and looking after clients. For more specific and clearly defined projects, there will be payment on top of the retainer to be agreed on a case per case basis as we need to have flexibility to price projects strategically rather than be locked to a particular formula.
A few practical conditions for potential candidates:
need to be articulate, be able to present and deal with clients (i.e. patient)
have their own blog(s), or familiar with running one, for at least a year
based in London
We are also looking for two people to work on project by project basis - a code assistant and a supplemental tech/design operative, based anywhere but ideally in London. There is an option of a retainer with flexible pricing for specific projects or straightforward fixed fees/prices, depending on the individual situation and preferences.
The code assistant should be:
Efficient in HTML/XHTML and CSS in order to work out advanced mock-ups that we will provide, understand them quickly and 'translate' them into actual code - in the most effective and accurate way (under our guidance and with the help of our specifications of course).
Ideally, we're looking for somebody who can look at the mock-up, and perceive the most efficient underlying HTML/CSS structure, with as little explanation as possible - although we will provide instructions. However, it will just make things much easier if he/she can look at the mock-up and have a feel for how the code should be structured.
He/she should also be able to manage gracefully - again, with our input if needed and under our supervision - the slight inevitable differences that exist between the graphical mock-up and the final display in the browser(s) window, in compliance with the original design. In any case, we will handle and provide each and every graphic element to be part of the design, and we will manage as needed any subsequent editing or addition of graphics all along the development process. Therefore, he/she doesn't really need to be a Photoshop guru, as we will spare him/her image editing work.
A reasonable understanding of PHP and Javascript, in order to painlessly implement scripting within the (X)HTML code he/she will produce. We're open to any kind of proposition as far as scripted features and solutions are concerned, but this is not something he/she should have to worry about on a regular basis, as we will provide the said scripts, and the instructions to implement them.
An understanding of the CMS(s) we will be using and coding for. His/her expertise on both points 1 and 2 should be enough for him/her to learn quickly whatever software we are (or will be) using, but any preliminary knowledge of the way most CMS templates are usually structured will be a definite plus.
Flexible enough to adapt and produce code according to our guidelines and conventions (for the most part, we're following XHTML recommendations: all tags and attributes in lowercase, quotes around attributes' values, closing tags, etc.).

Ideally, we would favour somebody who codes 'by hand' (the 'Notepad School' as opposed to the Dreamweaver one) but ultimately, we'll leave it to him/her, as far as he/she can provide us with clean and optimized code, that complies with our specifications.

Having said that, I know that (somewhere between) 80 to 90% of the people out there surf the web with various flavours of Internet Explorer. I have no intention to lecture them, snub them or Javascript-Alert them to change their browser. Consequently, the policy is fairly simple: We stick to the aforementioned standards up to the point where it makes no sense to stick to them, and we expect the same from our code assistant.

We're looking for a pragmatic professional with a solid sense of reality and who understands that between 'standards' for a happy few percent of users and Word crippled HatcheTML there is a quite wide and acceptable margin of operation.

Any delivered code has to be rigorously and intelligibly commented, as our code assistant shall always keep in mind that somebody may have to (will) work on the code he/she produces in the future, and should be able to do so as painlessly and quickly as possible.

In the same spirit, strict naming conventions will be used consistently for files, directories/site structure, templates and CSS selectors. We'll expect him/her to follow them conscientiously.


In a more general way, we're truly looking for an assistant. He/She will specifically code what we will design, and therefore will only have to care about his/her code.
To that end, he/she will have to work in close collaboration with the Head of the Design Department (of which we have none, the department, not the Head, of course).
We're also looking for a supplemental Tech/Design operative who should retain most of the requisite aspects for our code assistant, with the following additions and/or differences:
Ideally, we're looking for somebody who would be able to manage both design and coding aspects of a project, albeit with a stronger emphasis (and expertise) on coding. Let's say two third web developer, one third web designer. He/she can code (X)HTML/CSS in his/her sleep and is at an advanced level at least in PHP/Javascript (any extra competencies/mastered languages are of course welcome). A strong understanding of the Dark Mysteries of MySQL wouldn't hurt as well.
On design considerations: It's definitely okay if he/she is not the Next Big Thing on the art/graphic design field as far as he/she is able to produce good looking, elegant and professional blog/website designs—with our input when or if needed. Maybe not a graphic design pro (remember that's just one third) but at least an 'enlightened amateur'.

On the technical side of graphics, my policy is: When it comes to graphics optimization, broadband doesn't exist. If we can gain that extra 0.2 Kb on a .gif or a .jpg simply by moving the cursor one notch down while maintaining top visual quality, then go for it. There's no such thing as a small gain.

Although he/she will regularly answer to both the Design and the Sales department and get their validation all along the development process, he/she should be able to manage the project(s) in a fairly independent way. He/she will have to conceive and design, make structural and aesthetical decisions and create the final product.
Independent doesn't mean 'loner', so he/she should be able to work with the other members of the Design Dept. whenever a project requests it - and in full awareness of #6, par. 2nd and 3rd of course. Ahem.
He she will be a 'self-maintained cutting edge pro' in his/her field. Additionally, we do hope he/she'll never hesitate to share the relevant part of the knowledge he/she'll gain that way, in order for all of us to move forward and stay ahead of the curve.
Generally speaking, we're indeed looking for a web developer with a strong emphasis on design, able to work in parallel with other on separate projects.
Want work with us? E-mail adriana at bigblog dot net.
Goowy spam faux pas
This morning I found an email from Dennis Howlett whom I finally got to meet at Les Blogs 2.0 last month, recommending something called goowy as a new email client. The invitation was to set up an account and then let him know what I think. I like Dennis and know he gets involved in interesting ventures, and the way the invite was worded I thought he was somehow involved in this project. Also, as it was an early morning email-check (having gone to be at 3am the night before), I wasn't thinking about matters too much and proceeded with setting up the email to test it.
First of all, it's built in Flash, which is pretty but a bit of an overkill to say the least. But perhaps mainstream users like a graphically designed interface, so be it. Not everybody has to be a fan of gmail style simplicity. I moved on.
Secondly, when you sign up, you get to import all your contacts from your main email client. I use gmail and the import was smooth and effortless. Too effortless in fact, as I was clicking through the steps, there was a line at the bottom of the (visible) screen with a box checked, which only flashed before my eyes, as I was clicking 'continue'. It said 'send invitation to goowy to your contacts' or words to that effect. With horror I watched as responses (mostly out of office replies) started piling in into my new shiny inbox. You may say that I should have been more careful about proceeding to the next stage in the set up but you'd be wrong. I was setting up a simple email client, which is something I do all the time, when testing various new applications coming out of the blogosphere.
This is the real killer and the message is - You. Do. NOT. Check. Anything. Intrusive. By. Default. For. The. User!!! I am now incredibly pissed off at goowy for effectively spamming all my contacts. I did send an unhappy email to comments@goowy.com and I know I'll be watching the fallout from this with growing unease. David appeared on my IM asking about goowy already as he received invitations from two of his contacts. He commiserated while I was fuming, offering the opinion that they don't deserve to stay in business… And in true blogosphere fashion, he already blogged about it. I second that and may you burn in spam hell, goowy.
And now, what do I do? Send a link to this post to all my contacts? Groan.
cross-posted from Media Influencer
Quote to remember
If Shakespeare had been a weblogger, Romeo would find Juliet after she took poison and would have been so overcome with emotion he would have blogged about finding Juliet dead and would have taken so long that Juliet would have awoken and Romeo wouldn't have killed himself, and they would have married and had kids and his and her weblogs… and everything.
-Shelley Powers quoted in the Carnival of Capitalists (for the week of December 26, 2005)

The dumb, dumber, and dumberest things of 2005
Robert X. Cringley does his end of the year act when he recognises… all that is twisted and unholy in the world of high tech. Welcome to the third annual GUI Awards, for Greed, Underhandedness, and Imbecility.
I think my favourite winner is the "I'm With Stupid" Award:
… is a tie between Sony BMG Entertainment and First4Internet, which made the CD copy protection technology that turned consumer's PCs into hackers' playthings. Even more stupid: Sony BMG issued a "fix" that made things worse. As part of their award, executives from both firms will be locked in a soundproof vault and forced to listen to Celine Dion until their ears bleed.
Other good ones are the "Drop Those PowerPoints and Nobody Gets Hurt" Award goes to Cisco Systems (Profile, Products, Articles).
At last summer's Black Hat conference, Cisco did everything it could to prevent security consultant Mike Lynn from spilling the beans about holes in its IOS (Internetwork Operating System) software, save for a) putting a ball gag in his mouth, or b) fixing the damned flaws.
and The "We'd Show You, But Then We'd Have to Kill You" Award, which goes to SCO
...which finally submitted evidence in its nearly three-year-old copyright infringement case against IBM (Profile, Products, Articles), but asked the judge to seal the files so only he could see them. I understand the evidence is so terrifying it has been known to drive grown men insane (although not insane enough to hold on to their SCO stock).
Good show although I hope next year won't have that many contenders. Right, as if.

Quote to remember
It's increasingly difficult to play the stealth game. Too many consumers and bloggers have high-tech surveillance tools at their disposal to out folks that try to trick the system. You can only run away from your reputation for so long in the age of bloggers.
Pete Blackshaw in Blogger Thwarts PriceRitePhoto ID Change
Thanksgiving and US business
I have been travelling in the US for the last week or so. It has been an interesting time for me as the experience of talking to people in America about what I do is vastly different from doing the same in the UK. To sum up, in the US people tend to first make an effort to understand what I am talking about, then ask how much? and how would you go about it technically? and what's next? In the UK, it's more like, hm, that's fascinating, but… and start coming up with reasons why it's not going to work or pointing out (correctly) that it's going to be difficult to get paid for it.
When I set up the Big Blog Company, with Perry and David, I knew that the UK was way behind but saw it as potentially a lot more sophisticated market. With the experience of the last two years of banging the head against the wall and then going to the US, I expect to fall flat on my face any moment, as there is no wall. Go figure.
Yes, things are moving in the UK but, God, could they have been a lot further, if not for the resistance (relative to the US) to new approaches and lack of willingness to pay for knowledge. The Brits are scroungers when it comes to paying for expertise, they like to get things for free under the guise of deciding whether to buy or not. I wonder whether this is why decision making process takes six times longer than anywhere else in the developed world.
I am writing this in the States, about to get on the plane and by the time I get back, I'll probably eat my own words. I know that there is much creativity in the UK and interesting things are and will be happening in my area of expertise. And the UK is where I have spent two years trying to get things moving, not only for blogging but for its wider applications. It would be rewarding to start seeing some serious impact.
Les Blogs 2.0
For those who haven't heard yet, there is the second Les Blogs conference planned for 5-6th December in Paris. Organised by Loic Le Meur of Six Apart for very good reasons , it promises to follow up on the concepts and blog geekfest that the first one was. And jolly nice that was.
I will be speaking on a panel about how blogging is affecting corporations together with Philippe Borremans of IBM, Belgium, Georges-Edouard Dias of L'Oreal, France, Michel-Edouard Leclerc, France and Martin Varsavsky of Fon. You can see the full programme here and the conference wiki is also worth a look. I look forward to seeing you there.
All the news that's fit to blog or a wake-up call
I am seeing more and more articles like this one by Chris Cooper of CNET news.com, in fact, a deluge in the last few weeks. First, some interesting facts:
The latest statistics out of the Audit Bureau of Circulations find that newspaper circulation dropped 2.6 percent in the six months that ended in September.

A new Pew survey reports that 48 percent of blog creators are under 30 and 39 percent of them have college or graduate degrees.
And then the confession of a journalist hack:
I grew up with newspapers--starting as a 13-year-old delivery boy for the Long Island Press in Queens, New York, and then in my first professional gigs. What's more, I've been reading the print edition of The New York Times all my adult life and can't imagine ever straying from that daily routine. But I'm a dinosaur, part of a shrinking generation of daily print newspaper readers who likely will disappear in a few decades. And we're being replaced by folks who "consume media" through the use of RSS feeders, Web portals and blogs.
He spells out the frustrations that those of us who have been blogging about this for the last 2-3 years (eons in blogosphere time).
By now, I thought this old media-new media debate was history. Wishful thinking. Some of the most respected print journalists around still treat blogs as if they were lab specimens--at best interesting oddities but clearly not something to cuddle up to for very long.
In the midst of much talk and analysing of this new trend or other, in this industry or maket, there is only one trends as far as I am concerned. The individual (user, customers, readers, anything BUT consumers) is able to do things that used to be possible only for large organisations - ability to create, acquire and distribute information, knowledge and content and potentially command a large albeit distributed audience. An emergent effect of that is the ability to build experise, thought leadership, a brand even, without the backing of instituations. And although this empowerment is centered on the individual, it is very much embedded in a network and its social dimension.
But there's a shift under way in which authority is being transferred to authors with no accountability other than to themselves and their readership. Does it matter? Should it matter? The mainstream media can look down its nose at the blogosphere, but the numbers tell a different story. More people than ever are reading blogs because of shared affinities and it's coming at the expense of print newspapers.
There is a still a huge gap between those of us who have been saying this for years and the MSM that think they just discovered a new trend and at the current rate, they are going to be last to understand the profound changes in its own backyard.
Quote to remember
We don't know who your editors are. All our lives we read stuff written by people we don't know that's edited by people we don't know, who might have an agenda.
- Yahoo COO, Dan Rosensweig, addressing the traditional media, quoted in All the news that's fit to blog
A serious conference blog
Online Information 2005, a leading conference and exhibition for online content and information management solutions, taking place from 29 November - 1 December 2005 in London, has a blog. I have been advising on the whole day track about blogs, RSS and wikis and suggested that a blog is in order as in this day and age, there is no excuse for not having one for such purpose.
It was intended to become a dedicated space for interaction between the speakers and the delegates. The idea is to start shifting communication online before the conference so the communication between the speakers and delegates develops ahead of the event, and in full public view. Whether we can manage that in the remaining time, it's not certain. But it's a good start and I am glad I was able to be part of the process. I do believe that it makes sense to start the conversation way before the actual event and make use of the 'expensive' time that is spent in the physical space in the most valuable way. One of those is to make sure that static information that can be exchanged or received in beforehand, does not clutter the conference itself.
A quote not to remember!
Saatchi & Saatchi CEO Lee Daley talks about how technology impacts advertising.
We're going to have to get the consumers to opt in to the advertising experience. Interactive television, in actual fact, will probably be the greatest opportunity to overcome the threat of the PVR, but I think that consumers may end up paying for the advertising because they will opt in to content for longer, they will opt in to a truly interactive relationship through the television medium.
Arctic Monkeys give PR cold shoulder
David Sinclair reports in The Times:
A reluctant rock band leapt straight to the top of the charts yesterday, propelled to unexpected stardom by a DIY marketing campaign on the internet.

To music promoters they are the proof of two troubling new phenomena — acts successfully promoting themselves to the big time via a website and fans swapping their songs on internet forums.

This morning music PRs were adjusting themselves to a brave new world where emerging bands can market their product successfully before choosing a record label.
Imagine how famous they would be if they had a blog as well!
cross-posted from Media Influencer
We AID or new marketing paradigm
Jon Lund, whom I take to task (in the spirit of friendly exchange of opinions) over his interpretation of my 'message' at an IAA event last week in the post below, has come up with more thoughts on the subject of marketing and where it's (or should be) heading.
Traditionally marketing has been seen as the skill of creating first Attention, then Interest, Desire and Action – as known in the AIDA model. Some ten years ago, however, something happened. Under the "I am not a consumer"-heading, "consumers" started reacting against the direct call for action – reclaiming their right to decide for themselves what to do and when to do it. In effect the Action-part af the AIDA lost much of its meaning: Hence - I'd suggest - AIDA lost its "A", now simply crying out "AID".
He also sees the desire of users to interact and to be part of the content production as great news.
Instead of regretting that advertising today has limited opportunities of controlling the choice of consumers, marketers today are confronted with vast opportunities of resources only waiting to be awoken in consumers. Opportunities marketers can take advantage of, by entering the new sphere of market-"conversations". Conversations – or dialogue – in the true sense of the word, where both parties are allowed to unfold and expressing themselves.
Sounds good. But why on earth would I want to interact with marketers?! If anything, I'd like to interact with the guy who know something about cars or makes wine or
or beautiful jewellery. So give people a story and a reason to interact with marketers and they just might. Or not.
Blogs are inconsistent with marketing…?
I was rather surprised to see this as a heading to a post describing my talk at the IAA Interactive European Forum last Thursday. This is what Jon Lund thinks I believe:
Is there money in blogs? Not in the advertising sense! That was the message from Adriana Cronin-Lukas, CEO at The Big Blog Company. To her, the blogosphere is a place for conversations - and a sphere where commercial messages are not really wellcome.
and
While agreeing complety with Adriana that corporate blogs gives great opportuinies for establishing a conversation with customers, and poses great threats as well if you havn't grasped the basic idea, I'm not really comfortable with the "this is business and this is personal conversation" thing, that seems to run underneath Adrianas presentation.
Hm, I can attest that this is not my message. I'd like to turn tables on this interpretation of my argument. Jon's distinction between business and personal conversation is precisely the kind of false dichotomy that I am fighting. As far as I am concerned that there should be no 'commercial messages' in the world where the eyeball can turn them off and even talk back the 'messages' are intrusive and annoying. Markets are conversations.
So blogs are ideal for marketing, but the kind that appears to leave the advertising and marketing industry out of the loop. This is because they are the one who perpetuate the distinction between 'personal' and 'commercial', both concepts needed a closer examination anyway. Very few of the blogs I read for my work are personal, in fact, I can't think of any really. But all of them have a human authentic voice, simply because they are written by a human being not trying to be a brand or a commercial message. There is a distinction between human, personal and intimate and you can have a formal interaction with a human being, without the edifice of a commercial 'constructed' identity. None of this is new, again Cluetrain Manifesto has made this point ad nauseam.
As for advertising on blogs, I never said that this should not be done. True, I do not like it but at the same time I do not begrudge the revenue bloggers who attract large audiences can get from the eyeballs. Who am I to tell them how to interact with their audience?! What I usually point out though, is that ads are a channel format, designed to be produced as some content, packaged and then pushed through a pipeline directed at the appropriate demographic of eyeballs. Blogs are a network format, the content is not finished or packaged and they are connected creatures that distribute information not via pipelines and channels but via many-to-many and one-to-one overlapping networks. So I merely point out the clash and try to give a hint to advertisers that perhaps the best way to approach the blogosphere is not to litter it with the blog equivalent of banner ads.
One thing I noticed about the advertising and marketing industry is the sense of detachment on their part from the 'consumer'. (I have started to use the word 'audience' where they talk about 'consumers' to try to undermine this but it's a long slog.) Hence the use of the word consumer-generate media - it seems that as long as it's got the 'consumer' bit in it, it can be categories and therefore it's not threatening. I am remined of one of my favourite quotes.
That's the big thing for me with advertising. There's something really creepy - in a dirty trenchcoat and mismatched socks way - about people who are willing to expertly manipulate others, but not come talk to them as though they were human.
The recent Cillit Bang affair certainly confirms that. My message to the audience at IAA event was that there is a way forward but they have to respect the audience, the medium and the etiquette. Just like with any social interaction that you participate in.
Communities Dominate Brands - relevant as ever
Communities Dominate Brands could be mistaken for a book which is just about the shape of things to come. And whilst it does indeed have a lot to say about the future, the really interesting thing about this book is that it is about the reality of brands and markets right now in 2005.
The fact much of what Tomi and Alan have to say is controversial and counter-intuitive to branding strategists and marketing insiders is just a measure of the seismic nature of the changes being wrought by the 'Connected Revolution'. The world is not just changing, it has already changed and many of the axioms and practices which underpin how entire industries operate are now little more than a form of 'phantom limb syndrome'.
This book is not just an essay about understanding how the convergence of many technologies has changed everything, it is nothing less than a survival guide which I would urge people in businesses of all sizes to read from cover to cover if they want prosper in a world in which the balance of power on so many levels has shifted in favour of the digitally empowered individual and the affinity groups they form. These communities really do dominate brands. Get used to it.

Podcasting bandwagon or funny words
Reading this article in MediaPost made me exclaim - They never learn, do they!
Podcasting, simply put, is just another way to distribute content to consumers. As with all new digital sub-channels, the hype for podcasting can be overwhelming.
Perhaps I am still on the roll from the Cillit Bang affair, but what is it about the media types that they have to use such langague?
We are embracing the change and seeking viable new ways to reach and influence these consumers…

... the golden opportunity for marketers - the opportunity to deepen relationships between consumers and your brand or product.
Deepen relationship between consumers and a product?! People do not usually have relationships with inanimate objects (unless it's computers, obviously, or other items around which many a 'premium content' website has been built) but with other people (or their pets). One can talk about a following, enthusiasts or fans etc but do not pretend that I am 'relating' to a brand or a product, especially one that thinks of me as a consumer.
My gripe is not just about the choice of words such as content, consumers, 'reach and influence', consume content etc, but about the original point behind the article - looking how to insert advertising in podcasts, although the conclusion gives us breathing space before there will be ads in podcasts.
Although podcasts do represent great opportunities for marketers to deepen relationships with consumers, they do not yet represent viable advertising opportunities for most. Ads within podcasts are innately low engagement ads, even less so than pre-roll and in-stream audio or video. The net result is that the brand impact is more passive than that of other, more engaging forms of digital media.
Obviously engagement in adspeak stands for I push something at you that you can click on, basically meaning the same as interactive that has got worn out about 5 years ago.
Officially a PR crisis?
Tom receives an apology from the team who handle Cillit Bang, although he wasn't sure at first as the email domain is different. But then the first commenter pointed out it is from a PR agency specialising in handling PR crisis. Marvellous!.
He posts in full on his blog. Let me count the ways that raise my heckles about it.
The posting on 30th September was unplanned and an error of judgement and we unequivocally apologise for this. We recognise that it was inappropriate in context.
So the 'posting' was unplanned. Does that mean that every posting a brand would use on its blog (fictional or real) has to be planned?! Whatever happened to markets are conversation… And in any case, the 'error of judgement' happened in a comment on Tom's blog, not in a posting. But let's not dwell on detail when we have bigger fish to fry.
The Barry Scott character has appeared in a number of spoof websites and weblogs, created by people unconnected to the Reckitt Benckiser brand. The weblog posting on your site was not endorsed by Reckitt Benckiser or any of the advertising agencies that are mentioned and was a one off error from which lessons have been learnt. We are sorry for any offence it has unwittingly caused.
Oh dear. So to quote, Jamie, another commenter (some good stuff in Tom's comments section):
The say it was an error of judgement, it wasn't done by them, and they've learnt lessons.

We recognise that it was inappropriate in context.

I'd ask them to explain in which context it would be appropriate - and for a years supply of cleaning products.
I think I can follow Jamie's logic just fine - this seems like an old PR habit of never saying sorry, with the new mantra 'admit you are wrong' and the world will forgive you. Or something. Either way, it's not pretty communicated in a robot-like style.
And finally, they offer a personal apology, which is good, so why is the email signed by "Cillit Bang Team", not by a name of the person writing the apology?
And really finally, let's not forget the whole issue with fake blog characters and clumsy attempts by advertising/marketing/branding/PR companies trying to control this 'blog thing', shall we?
Cillit Bang clanger
Tom Coates on a new low for marketers, brands and advertising agencies in their clumsy attempts to co-opt the blogosphere for their 'targetted campaigns'.
A 'viral marketer' used Tom's post about his estranged father, a deeply personal topic, to leave 'personal' and sympathetic comment under the name of one Barry Scott. Nice, apart from the fact that Barry Scott is a fake character from a blog called Barry Scott Here (no google juice for that blog but Tom links to him in his post), a marketing vehicle for Cillit Bang products. In the words of Jon Stewart, one could say: It was definitely viral, I felt nauseous afterwards. Tom has done some good detective work, digging out names such as Young & Rubicam, Partners J. Walter Thompson, Reckitt Benckiser.
There are some pretty damning comments as well. The brand gets it, the industry gets it:
On one level it's simply an addition to the constant irratation of comment spam. On another it just adds to the continuing irritation of advertising in general leeching off communities (or in adspeak, target groups) to market products that by their very nature are tired and lacking in imagination and forward thinking - I don't have the facts but I can imagine that this particular product won't go on to win any environmental awards. And no, their ads are not ironic, they're just annoying. And that's plain and simple annoying, not even discuss it down the pub annoying.
And…
Holy crap. This is just insane. At what point does it seem like anything resembling a good idea to get your brand associated with an apparent willingness to make capital like this? If it isn't somebody spoofing, somebody has really lost control of their marketing plan.
Another commenter, Will Rowan sums it up well:
All "Barry" has done is brought the same ethics as work just fine in other marcomms channels, and used them online. Where, imho, they don't work. At all. You need to be a whole lot smarter than this to make a commercial blog work for your brand.
You can see the blogosphere fall-out here. Also, Niall Cook has a punchy message:
Let this be a lesson to anyone who thinks that fake blogs can be used as a front to engage with the rest of the blogosphere.

They can't. Period.
And a useful graph to show to those who needs to see the damage. There is much I need to add to this, other than I am not surprised by this. In the last six months I have been approached by several (large) advertising and media agencies to talk to them about blogs for their clients and very quickly concluded that they are simply not my market. There is nothing that will jerk most of them out of their, we-are-the-ministry-of-fun-co-opting-the-next-'cool'-thing-and-selling-it-to-clients-for-much-money attitude. Nowadays, I just tell them that my aim is to tell their clients how to do this for themselves, with authentic voice, for a fraction of their budgets. If they don't balk, then we talk.
Update: Neil McIntosh weighs in (Barry left a comment on his blog too).
Oh dear. It looks quite a lot like Reckitt Benckiser, Cilit Bang's makers, or their ad agencies, think this is a good way to sell cleaning product. And it looks quite a lot like they're about to learn what happens when viral marketing goes wrong. May they be flamed to a cinder.
Hard Diamond…
... or can a blog be a master jeweller's best friend?
Last Tuesday I ventured out of our Chelsea ghetto to Bethanal Green in East London to visit a magical place, Paul Hatton's workshop where he designs and makes his jewellery. He has not appeared out of nowhere - Paul is an outstanding English jewellers and spent many years in Los Angeles where word got round the Hollywood stylists. As a result he acquired an impressive line up of customers - apparently Liv Tyler and Kim Basinger just can't live without his creations and cigar-smoking Jack Nicholson commissioned Hatton to make 12 ashtrays for him, one of which was a present for Michael Caine.
Enough of name dropping, it was a wonderful afternoon, talking alternately about jewellery and blogs - a combination that you'll see more often in the coming months as Paul wants to blog about his craft. I will be helping Paul in any way I can to turn his blog into a conversation with an increasing number of customers. Thanks to Hugh for arranging the introduction.
The first Paul's creation I laid my eyes on is this beautiful egg cup. My arty farty description: it combines modern simplicity with medieval opulence.
Paul's website is nice and clean with images of his jewellery and he already has a blog set up, Hard Diamond. This is where he shares precious (pun unintended) information about his travels, his creations and how to cut diamonds and why. The blog is there to let the world know about his passion for jewellery and about his business and helps him find those who want to own a bit of his story. The idea is to reach out to those who might appreciate Paul's art and commission him to create more beautiful objects for them.
So watch this space, as they say.

Obscure underdogs
No longer, as the New York Times mentions BrainStorm, the best, simplest and flexible application for sorting out your thoughts.
Next is a truly obscure underdog: software called BrainStorm, created and sold by two independent programmers in England. Its kind of elegance, quite distinct from the style and polish of the Mac or TiVo, is the stripped-down functional beauty of an excellent sharpened knife.

BrainStorm is a return to the early days of personal computing, in its resemblance to outstanding DOS-era programs like XyWrite and GrandView. Its display is text only, with no graphic grace notes, and the only thing it does is manage lists - of ideas, tasks, references, names. Behind this simplicity is surprising power, or so I have found since buying it on a friend's recommendation several months ago. The program makes it very quick and easy to add, subtract, rearrange, or reconsider information you are working with.
David Tebbutt, one of the handful of bloggers whose off-line company I have a chance to enjoy, has spend much time and loving care on BrainStorm. I find it very useful when preparing for presentations, for example, as my thinking tends to be lateral and disorganised. Using BrainStorm enables me to switch from the creative (unstructured) to the analytical (structured) mode in a very convenient manner. I do recommend it, not only because I know how much effort went into it, but because it works. I also think that BrainStorm is like one of those little secrets that people like to keep to themselves - a phone number of a reliable and inexpensive plumber or a builder. Fortunately, Brainstorm can take the rush in orders, so off you go, organise and grow your brain.
Cross-posted from Media Influencer
Quote to remember
Calling blogs consumer-generated media is like calling sex the "clothless generation of heat, musk and mucus." The essential excitement and motivation just doesn't come through, does it?
- Henry Copeland in Consumer-Generated Media is an Oxymoron
Blogs are good for sales - New Flash!
Finally, there are more articles like this: Blogs and Bling Bling: Companies See More Sales, Improve Search Position, this time from DMNew.com.
eHobbies.com, which says it has watched its conversion rate double from the normal 2 percent to 4 percent whenever site users visit one of its blogs. Since adding blogging to its site in May, 5 percent of the company's overall traffic comes from its main blog destination, www.ehobbies.blogs.com. In addition, 5 percent of all orders have recently tracked to a blog-based coupon.
And it confirms that, as Weblogs Inc people like to quib, that BLOG stands for Better Listing in Google.
Blogging also is paying off in the company's search engine strategy. As one example, the retailer has climbed from the 18th to the third position on Google when searching for Nomadio-branded digital radio control systems. The result occurred without paying for placement.
In the words of Seth Greenberg, CEO of eHobbies.com:
One of the great side effects of blogs is that they are search engine friendly. Once we realized this, we made a point to include better descriptions in blog posts. We look at blogs as an extension of our organic search engine marketing strategy. Paid keyword placements are costly and must be managed responsibly. We have thousands of products, so the more we show up organically in search, the less we need to rely on pay per click.
I always try to get people use pictures to add to what they are writing about. It adds another dimension and if you are going to let people in, you might just as well do it in style.
We try to lift up the covers and show the customers what is behind our operations, what our warehouse looks like. We want to show them the menu of our local sandwich shop and introduce our customers to our employees, who are also avid hobbyists.
Another case that brings joy to any biz blogger's heart:
Jewelry site Ice.com said its search performance has jumped since introducing blogs six months ago. The jeweler's keyword "diamond pendant" climbed from 31st to 16th in Google searches while "discount earrings" rose from 30th to sixth and "gold rings" ascended from double digits into the fourth spot. Page impressions at www.ice.com increased 30 percent in the period.
Full impact, with metrics such as ranks, impressions and search performance. Blogging sceptics, eat your heart out.
The truth is that any metrics to do with blogs should be used to see a different picture, not just a straightforward comparison with normal website metrics. For example, superior page impressions for blogs are a reflection of the nature of blogs - people go to blogs for different reason than they visit websites. Also, blogs are about sending people out to other interesting places, which means that the visitors come back for more.
The page impressions tell us that people are spending more time at the site because of the blogs and are more likely to both purchase and come back. The investment to blogs has paid off in the sales coming from them. However, we are not necessarily looking at sales as the end-all barometer. We are also looking at the whole package: PR, site ranking, traffic and being in the forefront of online marketing.
There are now more and more of these 'little' successes. By little I mean that the success stories can now be dressed in the kind of language that the 'media types' understand, which make them harder to ignore. I find myself focusing on individual artisans who are their own masters and the impact from blogging on their business is obvious and ultimately measurable. More on this later, so watch this space…
Mobile music video
The MediaPost column Just an Online Minute has an interesting factoid:
The band the Presidents of the United States of America shot its latest video using only mobile phone cameras. That just may be a first. The video for the band's "Some Postman" was reportedly filmed in Seattle in only a day using several Sony-Ericsson mobile video phones. If this catches on, the advertising industry, its high-priced agencies, production company partners, and all related hangers-on could be in even more trouble than they are already. We don't know what the associated costs were, but you can bet your bottom dollar they were less expensive than shooting a regular music video.
This is it, with all that cheap (but user-friendly and effective) technology, I wonder how agencies and commercial film-makers are going to keep their grip on advertising budgets. There is value in their expertise and migrating to new tools they will discover a whole new world. I know one who already has.
High mile blogging
So it has come to blogging about how to be productive when you are 30,000 feet in the air. Makes sense to me… but probably not to all those people who keep saying, well, I can see some how companies might use blogging but the range is rather limited. I mean, how can you have a blog about cheese, for example!
The new inFlightHQ.com has just started and is sponsored by Connextion by Boing. I look forward to reading as I'll be flying quite a bit in the next few months.
You are it!
A VC in NYC likes to keep things simple. Blogging to him is about three things: Posting, Subscribing, and Tagging. And it is about far more than putting text into a blogging software and hitting a publish button.
Blogging is way bigger than that.
Podcasting is blogging.
Posting photos to flickr is blogging.
Building a link roll on del.icio.us is blogging.
Posting your cell phone videos of your cat on vimeo is blogging.
Building your personal page on MySpace.com is blogging.
Anytime a user posts their content on the web in a place they control for the world to consume, they are blogging.
This makes sense. And it is part of the growing understanding that talking about blogging in isolation, as something that 'bloggers' do is missing the point. Often people who haven't really looked at blogging talk about 'bloggers' as if they were some alien species that invaded the online world. This is especially true for marketing and advertising types - they need to stick to their understanding of markets by demographics and their categories and by dimissing bloggers as something different from consumers, they feel they can cope with them newfangled things called blogs.
Every time I talk to a person involved in "traditional media" who wants to understand the Internet, I tell them one thing – user generated content.
Until you get user generated content, you don't get the Internet.
And blogging is the platform for user generated content.
Subscribing is not about technology but about human behaviour… of choosing to read what you like.
...readers vote every day about what content they like and what they don't. They do this by subscribing or unsubscribing to RSS feeds of the blogs they like.
And finally, there is tagging:
With 10 million or more bloggers posting a couple times a day, how do you keep track of all that user generated content? You can't in an absolute sense. But you can establish a framework for user generated content and build on top of it. That's where tagging comes in.
Everything I have seen so far (and I have been blogging for more than 3 years) leads to me agree with VC's conclusions:
I believe that together posting, subscribing, and tagging will profoundly change the worlds of media, entertainment, commerce, and communication.

We are five years into the posting revolution, two to three years into the subscribing revolution, and maybe one year into the tagging revolution. We are just looking at the tip of the iceberg in terms of what can be done with these techniques.
Quote to remember
... advertising in general is designed to get people to pay attention to things that they might not otherwise notice. Sometimes ads are effective, and sometimes they aren't. But we have to recognize that most forms of advertising, and not just this one, almost always detract from the user experience. But they are accepted by most people as a necessary evil because most of us recognize that developing content costs money, and we accept advertising in exchange for free content.
- Search Engine Spam on O'Reilly's Radar
Marketers eager For Google IM
I have now installed Google Talk as a proper geek and testing it with my gmail-owning friends… (by the way, the quality of the voice was nowhere near as good as on Skype). I have no plans to move away from Skype that has won my affection over the year I have been using it.
The new Google IM application isn't yet ad-supported. But if and when Google is ready to monetize it with ads, it doesn't look like there will be any shortage of marketers. Carat Interactive media buyer Sarah Fay said her agency has placed ads on all the major IM networks.
We're big fans of it, and we're using all of the IM products of the other providers of that platform. We would be just as likely to use Google as another IM property--if they get themselves to the same level of usage as the others.

Other instant messaging services have a multitude of ads. America Online's AIM, for instance, displays banner ads above users' contact lists. At MSN, users can download "skins," which will brand their contact list and message windows.
It is the users choice to display skins to their contacts that one of the big draws of IM advertising, which is seen as giving the ads a 'viral nature'.
As an ad vehicle, I'm a big fan of instant messenger. The proposition is, because it's viral, and it's chosen by the person who displays it on the IM screen, you gain an instant credibility.
I must be missing something here as I can't see how the credibility is generated. So I like the colours or a look of some 'skin', choose it for my contacts to see, who know exactly what skins are available and what ads are pushed through them. Something here gets lost in translation, as choosing a particular ad sponsored skin is based on availability and (limited in my view) aesthetic preference, not a particular endorsement of that brand. But that's may be just my geek side talking…
There is an interesting snippet among all this:
Still, it's not clear that Google will allow display advertising on the product. Google Director of Product Management Georges Harik told OnlineMediaDaily that Google developers were not convinced that advertisements are the appropriate way to monetize an instant messaging service, and that the company is looking into ways to profit from the service "in a way that's consistent with the user experience."
I have a feeling that this view of user experience might subscribe to the don't-push-the-bloody-adverts-at-me' school of thought...?
Studios notice blogs - for advertising…
For a new film, "The Constant Gardener," Focus Features is intent on building its audience in a different way: by taking aim at readers of niche Web sites and blogs.
So far, so good. Using a blog to spread the news about a movie. Hm, nothing new here. But wait, it seems that all this amounts to is…
Focus, an art-house unit of Universal Pictures, has purchased ads for "The Constant Gardener" on the political blog Wonkette, as well as the Web sites of politically oriented publications like Harper's, The Nation and National Review.
The news is that studios advertise on blogs?! I guess it is a big shift if all they did before is used ads indiscriminately everywhere. James Schamus, a co-president of the studio, says:
We looked for the places that sophisticated moviegoers seek out to find things that interest them. These are the people who are engaged with the world, who are informed about the big conspiracies going on out there.
I don't know about the big conspiracies and I have been hanging around the blogosphere for a while. The point of blogging is that things get a bit more transparent, on the whole. Or does he mean the various nutters who do peddle conspiracies online? A niche audience indeed.
The article lists several films where studios dipped their toes online.
Ever since the release of "The Blair Witch Project" in 1999, movie studios have strived, and failed, to replicate the groundbreaking Internet campaign that made that film a marketing phenomenon. These new ad campaigns on the Web suggest that studios are becoming more determined to identify and reach niche audiences online.
Blogging works. But not if you do not understand the audience and pigeon-hole it before you start, just like the marketing person at ThinkFilm that bought banners at the bawdy gossip sites Gawker and Defamer:
Some movies just lend themselves to online advertising. 'The Aristocrats' is dirty, it's obscene and it's unrated, which is sort of like the Internet itself.
How about it's free, dynamic and caters for all tastes… Geez.
But let's be positive, Seth Godin, whose blog is worth reading, considers Focus clearly ahead of the curve in seeking an audience based on online behavior. I wonder then what he'd make of the Blowing Smoke blog.
Another marketing wonk weighs in, Joseph Jaffe:
The movie is about getting people to talk about a social issue. Blog readers want to be able to respond and add their own points of view.
Spot on. And how exactly does one do that with an advert? Ah, you are supposed to interact…
The "Aristocrats" ad also invites visitors to submit their own version of the film's unprintable joke. ThinkFilm, which has an advertising budget well below the $30 million that major studios typically spend, is hoping that this interactive component can propel an ad throughout the Web, creating a cost-effective campaign.
Note the language, it is 'the interactive component' that is going to 'propel the ad' creating 'a cost-effective campaign'. Not you and me, dear reader.
Apart from taking issue with pretty much everything in the article (my favourite gripes on my blog have been about marketing and advertising, for those who don't know me), I am blogging about this because it points to a trend that is obvious to most people engaged with blogs. The big guys are starting to notice although they can't seem to get 'engaging' any time soon:
Studios need to stop trying to reach the most people and focus on reaching the best people.
Indeed. But don't stop there, try to do more than just target interactive adverts at them…
cross-posted from Blowing Smoke blog
Isabella Oliver - maternity with style
Vanessa Knox-Brien and Baukjen de Swaan Arons launched Isabella Oliver (named after their children) in 2003. They saw the lack of stylish maternity clothes available on the market when they were pregnant themselves.
For Vanessa, previously head designer at Victoria's Secret, and Baukjen, with her background in marketing the road ahead was obvious. Along with the level headed Geoff Van Sonsbeek who runs operations they decided to launch a maternity wear brand that would cater to
the needs of the modern and stylish pregnant woman.
It gets better than that - they have a blog caled Baukjen & Vanessa diary. It is clean and stylish looking, with photos in the posts. The only (minor) gripe I'd have is that there are, as yet, no links in the sidebar. Girls, a blog is not just an online brochure, it's a part of a network of blogs, so show us what blogs you read and engage. But it's early days and judging by the content, it is turning out to be an interesting niche blog well worth watching as it documents the creation of a company. Their first post tells a story of a dynamic venture:
In May last year we moved into our own premises in Kentish Town - it reminds me a bit of the warehouses in Tribeca - and business has continued to grow. So far so good. In August we're launching in the USA, which is really exciting and a bit scary for me, its home country and full of family and friends - another reason for doing an online diary as they're a great way to keep in touch!
Vanessa is a New York designer but they set up in London and this month they are expanding to the US. She's just blogged about their 100th US order:
We've been live 2 weeks in the USA now and are happy to announce that we have had our 100th order today at 11.30!!! So thank you to all the stylish, pregnant ladies back home who have supported us and keep having those babies!!
Give mothers with style a chance!
via Blogger me
Optimised blogging
Search Engine Optimization, Inc. a full service search engine optimization firm is blogging at SEO Inc. Blog .
...blog dedicated to search engine marketing. Readers of the Blog will be able to keep track of emerging search engine marketing trends and read valuable analysis from experts in the field.
It didn't hurt, did it?
SEO Inc. saw that there was a definite need for an extensive Blog dedicated to search engine marketing from the agency point of view. Additionally, SEO, Inc. will be using the Blog as a news outlet. The SEO, Inc. Blog aims to provide companies interested in search engine marketing with detailed information so they can make better marketing decisions. The Blog also caters to search engine marketing professionals looking to keep updated on the most current events within the search engine marketing space.
That's about right, I couldn't come up with better reasons to blog myself - SEO junkies have another place to hang around now. I know sounds far more exciting than it really is.
Quote to remember
From its beginning the Web has looked to many marketers like an opportunity to address micro markets through "personalization" (in quotes because marketing's idea of personalization is the anti-Christ of real personalization), one-to-one marketing, addressing a market of one, etc. Yes, a car company can build a web page unique to my interests and preferences. Oh goody. But the real difference is that before I get to that page, I've talked with my friends and with smart, informed, funny, passionate strangers about the car. The most important characteristic of this new market of "ones" is that we're talking with one another, and we're telling one another the truth about your products. Marketing is much less interesting than these conversations.
- Dave Weinberger in Fast Company's blog 3Qs
Letter to Dell
Jeff Jarvis writes to Michael Dell…
Today, when you lose a customer, you don't lose just that customer, you risk losing that customer's friends. And thanks to the internet and blogs and consumer rate-and-review services, your customers have lots and lots of friends all around the world.
... and describes how that happens:
I blog. And I shared the story of my Dell trevails here. The topic resonated with hundreds more people. Go read the many comments here and here. Too busy? Then have an intern or an MBA do it for you.

And then have them read all the many posts of other bloggers who pointed to my posts and shared their dissatisfaction with your products, service, and brand and, in many cases, announced that they were no longer going to buy your name: See some of those posts here or here and you'll learn a lot.

Heard of those new podcast things? Well, you're in one.

Now go read the press this generated, because the press is reading blogs, even if you're not: here (where Fast company turned consumer dissatisfaction into a verb: you got Dell'd), here (ZDnet not just in America but in India, where your many customer-service people are probably reading this, even if you're not), here (a mainstream newspaper), here (an influential online news service), here (a consumer PC magazine), here (BusinessWeek, guys), and plenty more here: Just Google it; you should be doing that every day.
Yes, the meme travel gets interesting in the blogosphere nowadays…
New York state of mind
It looks like I am going to be in New York in September (final dates yet to be confirmed) and would love that to provide an excuse for a geek dinner for the local bloggers and blog groupies. The date is 15th September and the venue, preferrable somewhere in Manhattan, is yet to be arranged. If you are in the area, please join me. You can add your name to a wiki I set up for that very purpose, following a highly successful tradition of geek dinners organised by Hugh Macleod and Lloyd Davis in London. By the way, there is one tomorrow - London Girl Geek Party, guy geeks eat your hearts out.
For those who look for meaning in everything, I shall be in New York after attending the Johnson & Johnson Global Communications Conference in Jersey City (for senior communications professionals no less) during 12-14th September, talking about… well, you'd have to wait and see, won't you?
Will keep you posted. In the meantime, just add your name to the wiki, damn it. Don't you like fun and bloggers and geeks? No need to answer that…

Blog advertising - not marketers toy
... or, as AdAge calls it, the 'dark side of innovation'. As BL Ochman would say, puh-lese…
Kris Osen in AdAge wonders:
Is it safe to advertise in places on the Internet that are essentially run by consumers and cannot be controlled? How can they protect themselves and their good names when blog and chat-room users are liable to say and post anything? It's not just pornography or off-color language that worries them. What if consumers got angry about something involving a marketer's brand, and their remarks got linked to across the Internet?
The article has a telling sub-title: Blogs and Chat Rooms Pose Risks Despite Coveted Demographics. Interesting. So what happened to those pyjama wearing, navel-gazing techies, politicos and all-round geeks who are so not the desired 'target market'. Or has the holy grail of 'Mainstream' exposure moved online and into niche audiences? My, we have come a long way. [/sarcasm]
Another 'interesting' thing is the terminology used in the article to describe chat rooms and blogs (which finally are being recognised as interactive formats although still clumsily lumped together). Consumer-controlled spaces is what they call them. Hmm.
But all is not lost because blogs are more predictable than chat rooms and they can be monitored, contained, controlled and neutred. Hit them where it hurts, take their ads away!
The other major difference is that because the postings are predictable, the content can be monitored and controlled by automation or by human beings. If something objectionable is posted, an ad can be pulled within minutes…
Feedster is using filtering technology that, among other things, collects and reviews blog postings over time. So the firm that is running an ad campaign on blogs(!) can keep an eye on wayward bloggers:
Feedster squirrels away a record of everything a blogger has written to establish a pattern. The firm knows if the blogger uses profanity, proper grammar and spelling, whether the language is on the level of PG-13 or NC-17, even how often they go off topic. The advertiser chooses the set of attributes it can live with. "Then if something objectionable occurs, it would take us about seven minutes to stop the ad...".
Seven minutes! How cool is that?! Alright, I give in. It is perfectly fine for companies to know what conversations are happening about them as Pete Blackshaw of Intelliseek points out:
Companies need to be tuned into the good, the bad and the ugly. It's amazing how many companies have no idea about all the bad things that consumers say about them—really vicious.
However, something has got lost in the translation - the idea is to join those conversations, not to control them.
Update: Doc already said pretty much the same thing. I guess, I am not fast enough these days…
The "Try impossible" headline was my two-word response to the Ad Age headline, "Marketers wrestle with hard-to-control content". I had other objections, like calling blogs a "consumer controlled space" and lumping them together with chat rooms; but my main objection was to the "control" assumption.
And states the point clearly:
Freedom from advertiser control, which has prevailed in varying degrees in traditional media for the duration, is one of the reasons we have blogging.
Trump thud
Donald Trump has a blog! Trump University is its name, with a tagline Ideas and opinions from Donald Trump and his circle of experts.
Well, to each his own, but the point is that he's joined the ranks of bloggers… Or has he? The comments are moderated. That, of course, is no major sin as there are many trolls, spammers and blogroaches out there. But Mr Trump seems to employ some PR people to nicely spin any comments that might land on his blog.
Ike Pigott posted a comment to Trump's blog, nothing drastic, to see if it clears the screening process:
Mr. Trump, welcome to the world of blogging. I'm sure you'll find this forum an excellent model for feedback.

Regarding your statement: "My career is a model of tough, fair dealing and fantastic success--without shortcuts, without breaking the law."

How do you reconcile a claim such as that with the Vera Coking case in Atlantic City? While it is true you have broken no laws, most people will associate your use of eminent domain as a violation of "fair dealing" and "without shortcuts." (Especially in the political climate we are in post-Kelo v. New London.)
And this is how the comment appeared:
Mr. Trump, welcome to the world of blogging. I'm sure you'll find this forum an excellent model for feedback.
I think I'll just use BL Ochman's message to Donald Trump:
Gimme a break!

You don't want to run a comment, don't run it, but don't freaking edit a critical comment into an endorsement. Puh-lese.

Donald the Blogger: You're fired. And your trackbacks don't work either!
Not much to add to that. Well, apart from that trackbacks can be a bit iffy.
More people reading blogs - news flash
Red Herring reports:
U.S. blog readership in the first quarter jumped 45 percent to 49.5 million people, or one-sixth of the total U.S. population, a report said Monday, suggesting the blogosphere is becoming increasingly alluring to online advertisers.
I am hearing this from all sides and have been invited to a couple of conferences for advertisering industry to speak about blogs and advertising. Hm, I am not sure they'll like what I have to say but I will try to make sense of the relationship between such two different worlds - the blogoshpere and media industry. Well, the first thing I notice, apart from the bitching from both sides, is the media industry's eyes watering as they are trying to focus on blogs. Too small for those big-budgeted and gloss-filled vista and the range of vision is adjusting with the declining revenues, impact and channel fragmentation and other disruptive goodness.
But back to the blog 'metrics':
As far as advertisers are concerned, blog readers are a desirable demographic—young, wealthy, likely to shop online, and with high-speed Internet connections. They visit 77 percent more web pages than the average Internet user.
Blogs are addictive, that's the real news flash. Heh.
Quote to remember
It's natural enough to think of the growth of the blogosphere as a merely technical phenomenon. But it's also a profoundly human phenomenon, a way of expanding and, in some sense, reifying the ephemeral daily conversation that humans engage in. Every day the blogosphere captures a little more of the strange immediacy of the life that is passing before us. Think of it as the global thought bubble of a single voluble species.
- Measuring the Blogosphere, New York Times editorial
Blog Visitors More Affluent Than Average Web Users
Who'd a thunked it?
Blog visitors are 11 percent more likely than the average online user to have household incomes of at least $75,000, and are also 11 percent more likely than the average Web user to connect via broadband.
I thought bloggers are time wasters, having nothing better to do then blogging about their cats and reading other blogs… In their pyjamas. And that nobody really cares what bloggers write about.
Something tells me that this should get the marketers' pulses racing:
The report--authored by comScore Network's Graham Mudd and DoubleClick's Director of Research Rick Bruner, and sponsored in part by Gawker Media and SixApart--also found that blog readers visit nearly twice as many Web pages as average Internet users, and are more likely to shop online. According to the report, 51 percent of blog visitors made an online purchase, compared to 39 percent of the all Internet users.
Bloggers brace yer'selves - you'll have to beat them off with a stick.
cross-posted from Media Influencer
Doing it my way, all the way…
And that is exactly what Kamal Aboukhater, the producer of the movie Blowing Smoke, has just done. He has produced the film his way - deeply un-PC screenplay about cigars, men and women using cutting-edge digital technology - and now he is releasing the movie via the Blowing Smoke blog.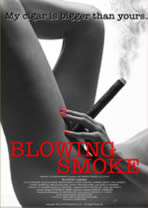 So having done all that, getting good people on my side working with me, I didn't want to become a slave to anyone. I didn't want to wait for my movie to travel up the long and tedious chain of command until someone finally made a decision to release it.

... There will be no waiting. I can, audience willing, get immediate response and won't be at the mercy of a movie studio or distributor. One thing I have learned about audiences, thanks to blogs, is that they are not a unified mass of "consumers." They are individuals, choosing something (like what to watch) for many and varied reasons. Some might want to watch Blowing Smoke because they like cigars, some might be drawn to the poker, and others may want their opinions about women and men confirmed. Whatever the reason, now they can do so easily. And, if they feel like it, they can let me know their reactions and opinions.
And he really does not like the studios, but he seems to like bloggers:
Major studios seem to be the last to adopt and adapt to innovation and trends. And, just like with video and DVDs, they are again missing the boat, unaware of the new possibilities for reaching their audiences. They might have caught glimpses of the future, such as Firefly, Global Frequency, and Garden State. This is thanks to a new band of warriors, better known as bloggers, who add strength to the voice of the fans, fighting for more choice for themselves and, in the end, all of us.
The point is that he can go all the way to his audience, by-passing the intermediaries. Sure, the path is not clear, the journey may be either uneventful or too bumpy, but Kamal is aware of the experimental nature of what he has done. He is enjoying the comments from those who understand and appreciate what he is trying to do. As he said after the 'launch':
It's no longer just about the movie but about an opportunity to add another dimension to the infrastructure that's already there - the blogosphere and the internet.
It has taken a while to get to this point both in terms of understanding and then realising the idea. I feel privileged to have been part of that process and enjoy working with Kamal whose open mind has been instrumental in this adventure. In return, he can be blamed for my blossoming addiction to cigars, the quality of which would make any cigar afficionado weep with joy, or envy. Whilst discussing the final details of the Blowing Smoke 'release operation', I savoured a particularly good Hoyo de Monterrey. Who says the days of plotting in smoke-filled rooms are over…
I shall leave you with an exhortation: Boxed BS available now! Get your own! Oh and, BS download is Coming Out Real Soon Now!
cross-posted from Media Influencer
Every second a blog - but not for the long slog
In today's Guardian Jane Perrone writes:
80,000 new weblogs are being created every day. Technorati tracked more than 14.2 million blogs this month, compared to 7.8 million in March.

But the statistics show not everyone who starts a blog stays the course. Although the blogosphere has doubled in size in just over five months, only around half of all blogs are "active" - in other words they have been updated in the past three months - and just 13% are updated every week or more often.
But that does not really matter, does it? As I often point out, talking about blogging as a unified subject is focusing on the format and missing the most fascinating aspects of the phenomenon. It is like judging the success of printing press by the impact the Communist Manifesto, or the Bible or trashy novels for that matter, have had on the world. And this is actually what happens - there are people complaining about how blogging can be toxic by causing confusion or lack of transparency and credibility(!) and many arguing that blogs are nothing but self-absorbed rubbish at worst and an online version of tabloids in terms of facts and reporting at best, etc etc etc. Even is such objections were true, which they mostly are not, they are irrelevant to the understanding of what is happening with communications and the ability of audiences to connect not only with the 'broadcasters' but also with themselves.
My point in the article is that we should not be focusing on the numbers - that is playing the game by the big media rules - but on those aspects of blogging that are truly revolutionary. Self-expression, individual creativity in the public space/domain giving rise to a new online social infrastructure, on top of the technological one.
If you know somebody, how long does it take to know what they are thinking? It's a long drawn out process. But with blogs it's the other way around - you meet the person's mind through their blog.
I see this every day and I myself have found a number of amazing people in a very short period of time. That makes blogging a social activity par excellence. And this is before the pyjamas even come into it.
Cross-posted from Media Influencer

Quote to remember
But if the Web itself isn't being remade, it's certainly remaking us in fascinating ways.
- Scott Kirsner, a contributing editor at Fast Company in an article for Boston Globe
Golden rule for podcasters
Podcast unto others as you would have them podcast unto you.
- David Tebbutt, with apologies to Luke 6:31.
Is corporate blogging worth the hype?
Apparently yes. Backbone Media asked bloggers at hundreds of companies to participate in an online survey and conducted in-depth interviews with leading individuals from six corporate blogs that were selected as representative of the diverse spectrum of the corporate blogging world.
What we discovered was that for the majority of our survey sample, (which includes some of today's biggest corporations and scrappiest underdogs), corporate blogs are living up to all the hype. We discovered that corporate blogs are giving established corporations and obscure brands the ability to connect with their audiences on a personal level, build trust, collect valuable feedback and foster strengthened relationships while and at the same time benefiting in ways that are tangible to the sales and marketing side of the business.
Well, it's not exactly a new flash, is it?
Update: Realised that my post reads as if I were sceptical about the report or did not consider it important. On the contrary, I am glad it was produced and big thanks to the Backbone Media. I will blog more about it as soon as I get round to reading it in detail.
Is PR getting it?
Richard Edelman of Edelman PR firm writes on his Speak Up blog about how PR industry is increasingly on the defensive as to its standards, effectiveness, credibility, honesty, etc etc.
Status quo is not acceptable for our industry. We are being dismissed as eyewash or even worse as obfuscators.
Yep, that sounds about right. He consults Jay Rosen and mentions Doc Searls:
As we discussed the problem, we came to an agreement on what needs to change. We should modify our vocabulary. We talk with pride about developing messages for our clients. What about Doc Searls' view that in this democratized world, we don't need messages? Maybe the idea of controlled messages is something that worked in a world of relatively few media and is now obsolete. We have to get away from anything that smacks of control and manipulation of audiences. We should opt for public relationships where the operational words are dialogue, transparency and speed to market.
A fairly predictable discussion in the comments ensues, with David Weinberger weighing in with a forceful explanation of what he means by knowledge being a result of ongoing conversations:
Yes, I am pushing that conversation thing hard. Here's a key to making sense of me: After farting around with the idea for a long time, I've come to fully and literally believe that knowledge does not consist of a set of true statements, but is indeed something constantly emerging from conversations. I finally came to this belief after realizing that the old idea that we argue about something and then settle on a belief is a false characterization of our situation. Rather, we argue and discuss forever, we rarely come to universal agreements, and the conversations are going to continue as long as there are humans. Our hope should be (IMO) not that we come to universal agreement - it ain't gonna happen - but that we have more conversations with more people, in a bigger world, and that the quality of our conversations gets better. That's as close as we're going to get to knowledge. IMO.
Hm, a bit Popperian, I'd say… and makes sense to me. As for the PR industry? Unless those involved in it truly understand that a message/image/impression cannot be controlled and that the companies are not founts of all knowledge, they'll probalby follow their media cousins.
Good people talking
Alan Moore of SMLXL and one of the authors of the book Communities Dominate Brands will be speaking at an IPA (Institute of Practitioners in Advertising) event on Monday 25th July 2005. More details here.
Alan has much good stuff to say especially under the title of the talk: Consumers are doing it for themselves!
My only gripe is why do they still use that horrible term 'consumer'? Grrrr!
Business press on business blogging
Kyle Wingfield has a go at the increasingly noticed issue of business blogging in Wall Street Journal Business Europe.
He coins a wonderful analogy of what it must feel like for companies toying with blogging:
This may feel a little disconcerting at first; after all, the primary way that companies communicate with the public emulates the style of television broadcasts: a one-way message sent from one source to the masses. Think of it, though, like learning to ride a bicycle: The off-balance sensation eventually will give way to a confident, even liberating, feeling that allows you to go farther, faster, than you could before.
As I already said somewhere in a comment, I think the article makes a point for business blogging without overstating it or mocking it, which is the two extremes so many mainstream commentators fall into. Oh, and I get quoted a lot…
A day earlier there has been an equally positive article on the merits of blogging for business in the FT. Here is a good summary for those without paid subscription courtesy of Niall Cook of Marketing Technology blog who rejoices in the good press FT gave business blogging:
I love the Financial Times. They always make me feel good about the crap I've been spouting at my ever-sceptical colleagues for the last two years.
Two mainstream business press articles on business blogging in two business days? Hm, may be blogs are, like, getting out there, like, among the business people…
'New internet' tools in the media's face
Wired Media Hack talks about FCC chairman Michael K. Powell noting that most of the significant pictures of the London suicide bombing attacks didn't originate from professional photographers employed by news agencies but from witnesses at the scene using cell phones and digital cameras to document the tragedy.
Before, blogging was largely fixated on the failure of mainstream media. Now it has become a necessary supplement, and in some cases, a substitute. But Powell takes this a step further. To him, London showed that blogging has morphed into the art of raw, personalized storytelling.
It certainly isn't reporting and this should not fuel the misplaced debate about blogging vs. journalism. But it is a development that was to be expected.
You really felt as if you were there as opposed to watching CNN or reading MSNBC.com, which are fine for the facts but stale and a bit removed.
Again, the myth of objectivity makes for a 'detached' (often read biased) reporting of facts that made the bloggers appear in the first place after 9/11 when many people felt that the media reporting was not on the same planet as them. This time, the media actually sourced its news from the 'citizen journalists' and we are all better informed for it.
And now there is Technorati.
The number of posts on blogs tracked by Technorati increased 30 percent, from about 850,000 a day in July to 1.2 million on the day of the attacks. Nine of the 10 most popular search requests involved the unfolding tragedy in London.

If you think about it, Technorati has become a public utility on a global scale.
Indeed. And not just Technorati but other search applications (such as Ice Rocket, PubSub, BlogPulse etc) built around dynamic content. Here is a very good explanation of the difference between Google and traditional search engines (wow, I am using the word traditional in internet context, I feel so old!) and Technorati.
Google, for instance, views the web as the world's largest reference library, where information is static. Instead of the Dewey Decimal System, Google employs its PageRank technology, which orders search results based on relevance. Google uses words like web page, catalogs and directory, which are more than just words: They convey an entire worldview.

In contrast, Technorati sees the internet as a stream of conversations. This makes it much more immediate. Google requires two to three weeks to input a site into its search engine. (Although it does post frequently updated content from news sites.)
David Sifry, the guy behind (and in front of) Technorati uses a phrase meme epidemiology (love it!) as in:
In meme epidemiology, knowing the first person to say something is the first step to understanding the contagion, why some memes are contagious while others aren't.
That is exactly the kind of stuff early bloggers were figuring out for themselves. On Samizdata.net, we have worked out fairly soon that blog something about guns, freedom, abortion, Iraq, Afganistan, multi-culturalism etc etc, you'd get more comments and more people linking to it. We, in the Editorial Pantheon, used to call it the tabloid-effect as it was predictable and rather crude. What Technorati has made possible is tracking much more subtle and niche memes and conversations that result in much emergent goodness.
There is also a mention of the Chinese blogosphere and how Technorati tags are helping the bloggers by-pass the Chinese policenet.
One indication that the phenomenon that Sifry spawned three years ago has worked itself into the fabric of internet life is that in China, bloggers are using Technorati tags to get around government censors. The Adopt-a-Chinese Blog program works by volunteers announcing their intention to host a blog on their server by employing a special Technorati tag. That way, bloggers in China can locate the blogs through a special page. Since the pages are served outside of China, the government can't censor them.
Now we are talking about the proper use of technology!
cross-posted from Media Influencer
Bob Lutz: To blog or not to blog?
General Motor's 'executive' blogger, Bob Lutz is giving an insight into his experience with blogging in Information Week. He talks about the importance of unfiltered conversation, showing the bad with the good as a means to buildling lasting credibility. Sounds familiar?
His concluding advice is obvious given the success of the Fast Lane blog:
To me, the blog is a way for GM to be culturally relevant. It allows us to be on the leading edge of new technology while getting our strong views out there about our cars and trucks. So far, response has been outstanding, with more than 5,000 visits and 13,000 page views a day.
To any senior executive on the fence about starting a corporate blog, I have a word of advice: Jump.
Told you so.
For those who can't get enough of Bob Lutz, here is an interview he gave to AutoWeek.
via NevOn and cross-posted from Media Influencer
Blogs: A Real Conversation?
On Tuesday I was talking at the NMK blogging event, Blogs: A Real Conversation, that took place at University of Westminster, in 01zero-one. The title of my session was Are blogs new voices of authority? Well, the blogger has spoken.
Comprehensive multi-media coverage by Lloyd Davies of Perfect Path who points to others who did agreat job of summarising the whole of BARC .
I have been to most events about blogging in London and think that NMK pulled it off in an intelligent and interesting manner. And that's not just because I was on the panel. It was like a gathering of friends without the navel gazing. Interesting concepts about internet, online and blogs were explored, people spoke intelligently about them - metaphors all over the place. My kind of stuff…

Panel 2
Originally uploaded by Lloyd Davis.
Disruptive Skyping
An excellent article by Gordon Cook in strategy+business about Skype's challenge to both telcoms and traditional companies. Skype is a "softphone" — a software-based telephone that uses a computer, cellphone, PDA, or any other equipment connected to the Web to deliver voice with simultaneous file transfer and instant messages over the Internet.
It is different from the growing number of "voice over Internet protocol" (VOIP) networks offered by phone and cable companies, because it is a peer-to-peer system, creating ad hoc computer-to-computer links over the Internet whenever Skype users want to reach one another. The big issue here is that no central networks mediate
or manage the connection and so the user to user calls are free. Since its debut, Skype has signed up 35 million users and, at any one time, well over 3 million people are logged into its network.
Those of us who use it, know how revolutionary it is and how it changed the voice communication and its cost. But as Gordon Cook points out, the road to Skype's domination is not smooth as most corporate IT and telecom managers are trying to avoid Skype at all costs. It is for sound security reasons, but I am sure the idea that employees can be using something that is not controlled by the company and/or its IT department plays a role. But because Skype gives more control to the individual I don't see how its progress can be halted without resorting to drastic measures:
Soon it will become imperative for larger companies to take Skype seriously, if for no other reason than that peer-to-peer architecture is one of the most efficient, most direct, and least wasteful systems of digital interaction.
But perhaps the most lasting influence of Skype will be that it will force management and IT executives to consider how to structure a network that exists both inside and outside the corporate firewall. To improve innovation and their own productivity, employees will gravitate to the most advanced collaboration and communications tools with the most reliable levels of quality, no matter what price is paid in weakened security.
Indeed. The corporate firewall is a technological equivalent of the great business divide between the company and the 'consumers' whose porousness Cluetrain has so effectively pointed out. This is not a statement about no need for security but for looking at the landscape in a bit more peer-to-peer way, you might say…
Cross-posted from Media Influencer
Anniversary lessons from… the internet
The Economist has an excellent leader article about what important lessons the remarkable tale of eBay's growth points to for any business trying to operate online. Today that includes, one way or another, most firms.
The commercial opportunities presented by an expanding global web seem almost limitless. But the pace of change is rapid, and so is the ferocity of competition. To succeed, firms need agility, an open mind and the ability to reinvent themselves repeatedly. Most of all, they need to listen carefully to their customers, paying close attention to what they do and don't want. Such qualities, of course, would be valuable in any kind of business. Yet for online firms they are not a luxury, but necessary for mere survival.
Hence their writing on the wall for the marketing industry about the 'empowered consumer'. They translate the many-to-many nature of the internet into the need to pay attention to every whim of the customers. Which is good advice, but I would go even further - businesses should understand that the barrier separating them and the 'consumers' is breaking down. Their employees are the same people who create the 'consumer class' and the big divide between the 'broadcaster of the message' and the 'target audience' is no longer what it used to be in the industrial era of mass production and pretty much mass everything…
More on spyware plague
One more post on spyware and adware, which is one of my major criticisms of advertising and marketing as its obsession with measurement of every flick of consumer's eyeball provides a fertile ground for the ad/spyware scum. Dan Gillmor explains why one senator's likening spyware to somebody walking around your house, kind of invisibly was inadequate.
Spyware is more like someone planting hidden cameras and microphones around your house and office, and even in the bathrooms. It's just about the sleaziest online activity there is. Given the severity of the problem, one might be pleased to hear that Congress seems fairly serious this year about doing something about it. But it's too soon to get our hopes up. For a variety of reasons, including the sheer indifference of the bad guys to the rule of law, this plague will be enormously difficult to slow, much less halt.

The stakes are high and growing. Nothing less than the future of online commerce and communications may ride on whether we find ways to deal with spyware.
Quite. And he is spot on about the underlying problem:
IT people need to explain to marketing people that it is never acceptable to install unwanted software on customers' computers. And marketing people need to understand what they risk if they go ahead and do it.

What they risk with me is simple: If I learn that a company has even attempted to pull a fast one, I put it on my personal blacklist, which means never doing business with it again.
The reason I devote and plan to devote much effort to highlighting the unholy alliance of spyware/adware and 'respectable' online advertising and marketing industry, is that the connection does not seem to be obvious enough. So watch this space, I am not done yet..
The mobile guru has spoken…
A truly dizzing predictions of the future of mobile from Tomi Ahonen on Communities Dominate Brands… I was getting quite excited by 2010 what with a 3.5G phone with a 5 Megapixel optical zoom cameraphone with WiFi type speeds and built-in TV tuners, and a gigabyte size hard drive (like today's i-Pods). The smallest phones are the size of a thick credit card.
But that's barely scratching the surface. Tomi buffs up the crystal ball and this is what he sees for 2020 and 2025:
By 2020 the personal secretary function evolves into a personality synthesizer - ie there will be software on my phone, that when you call it, you don't even know that you did not talk to me, you talked to my phone, which then makes necessary adjustments to my calendar, informs me briefly what was talked about etc. And the translator? by 2020 the bugs are fixed, and we have real-time translation, any language to any language.

By 2020 all payments go directly to the mobile phone account (ie it is the same as our bank account and our credit card account). We pay all relevant payments by mobile phone, from taxes to rents to monthly car payments etc. Most daily newspapers have stopped printing paper versions. Music CDs and movie DVDs are no longer made. And the "free" non-Mobile phone based "old-fashioned" internet has all but vanished.

Finally in 2025 we have the 5G phone. It is totally unfair to call this a phone and it certainly won't be called that. The form factor is more like a sugar cube or less, can easily be built into a ring for example. People will have these communication devices built into the body, into perhaps a tooth etc., With multi-multi terabyte hard drives these "phones" can ship with all the worlds' movies, or all the world's TV shows, or all the worlds' existing videogames, etc already preloaded, depending on what is your preference of entertainment. And of course mainstream phones come with the top 1000 fave movies, TV shows, videogames AND all existing music preloaded.
I am not sure that the phone will become the device of the future although it makes sense on many levels. However, this is Tomi's territory and I look forward to more of his insights. In order to appreciate the journey and it isn't just the path of the mobile phone development but many other media and communication read the whole thing.
Spyware payback time..
... even though it's just one settlement in New York. Hopefully that sends a signal to the industry. Eventually.
Searching for clarity
MediaPost has two article about paid search. The first one is good news for search engine marketing/optimisation business as the Merrill Lynch in a report on Internet advertising issued Thursday predicted that the amount spent on sponsored search listings will increase 47 percent this year to around $5.1 billion, from around $3.5 billion in 2004. Much of the growth will stem from the rise in broadband adoption, which as Merrill Lynch predicts, will result in more queries to search engines. Lauren Rich Fine, first vice president at Merrill Lynch says in the report:
[S]earch volume growth really has been the bigger driver of growth in paid search advertising in late 2004 and into early 2005. We believe this trend will continue as broadband subscription prices continue to drop, more users move to broadband connections, and ultimately conduct more queries.
Overall it seems that online advertising is gathering some serious momentum. Last week at the conference, the statistic of online ad spending as compared with offline has been bandied about a lot. Merill Lynch continued to predict that online advertising would reach $12.4 billion this year and $25 billion by 2009. My views on that are… well, I am not exactly jumping up and down.
The second article is about how major search engines do not clearly disclose which results have been paid for and which are organic, according to a study, Still in Search of Disclosure, by Consumer Reports' WebWatch.
Interestingly enough, the study author, Jorgen Wouters, indicated that the failure to prominently disclose whether a marketer had paid to be included in the results misleads consumers.
Our previous studies have shown that 60 percent of consumers surveyed did not know that search engine results included paid advertisements along with non-paid results, and when they found out the truth, they were angry. Search engines need to understand that these practices and omissions, when exposed, matter to consumers--their customers.
Note to marketers… it's all in the mind. It's about how you treat your clients' customers. If they are sheep or eyeballs that just need to be teased, entertained or otherwise manipulated into paying attention and buying the products you want them to, it will show. It has always shown, to be honest, but now the 'empowered consumer' can and does talk back.
Quote to remember
He [Bob Garfield] was talking, of course, about our industry's acne that is pop-ups, our bad hair that is sketchy content, and our halitosis that's spam. He didn't even really focus on our stigmata of Spyware, which has probably gone farther than any of our industry's other ills to erode consumer trust.
- Mark Naples, onlineSpin
Post-conference blues
Alright, not really 'blues' just the final impressions from the NMA Online Marketing conference and show, which you can read about here…
Online Marketing conference
Off to the NMA online marketing conference. I am going there today to have a look around, talk to passers-by about interruption vs engagement marketing, make sure my laptop and the 'multimedia' (read video clips and links) in my presentation work for tomorrow, and finally spend some quality time with Jackie Danicki on the Latitude stall. If you are around, do come and say hello.
Will try to do some moblogging on my other blog while I am there, if there is anything worth capturing…
Blogging rulez
CorporateBloggingBlog has an excellent summary and comparison of all publicly available blogging policies, IBM, Yahoo, Hill & Knowlton, Plaxo, Thomas Nelson, Feedster, Groove and Sun.
There is an analysis and bit of pattern-spotting among the rules:

The Core; all companies

You're personally responsible
Abide by existing rules
Keep secrets
Be nice
The Common; approximately half of them

Add value
Respect copyright
Follow the law
Cite and link
Discuss with your manager
The Unusual; only one or two companies mention

You can write on company time
Our goal
You may disagree with the boss
Stop blogging if we say so
Contact PR
Each of group of rules is further analysed.. a must read.
Brave new world… of blogs
A good article by Nicole Ziegler Dizon of AP in the Miami Herald about corporations entering brave new world of blogs. She uses the case of Bob Lutz, Vice Chairman of General Motors to illustrate the effectiveness of blogging by making possible for companies to present their side of the story, or their story in the first place.
When General Motors Corp. wanted to stop speculation this spring that it might eliminate its Pontiac and Buick brands, Vice Chairman Bob Lutz took his case directly to dealers and customers who were up in arms about the possibility.

He wrote about it on the company's blog.
There are corporate blogs, although the blogosphere is not bursting at seams with them. Apart from GM, other executives with public blogs include Richard Edelman, president and chief executive of the global PR firm Edelman and Craig Newmark, founder of the online swap meet Craigslist.org. Aircraft manufacturer Boeing Co. also uses a blog to promote its brand. Randy Baseler, vice president of marketing for Boeing Commercial Airplanes, made his first entry in Randy's Journal on the day before rival Airbus unveiled its A380 superjumbo jet. The numbers will grow for those companies that care about their perception ... and the integrity of their relationship with customers as Jonathan Schwartz puts it. Peter Blackshaw of Intelliseek is quoted, and I agree:
I think that in two years ... we will look back and laugh that we treated this as such a big deal as it's inevitable that companies will adapt to the consumer-driven atmosphere of the Web.
We told you so…
Cybersquatters target blogs
For years cybersquatters and typosquatters have preyed on highly trafficked Web sites such as Google, Yahoo and AOL. Now they are turning their sights on a new group: bloggers. Examples abound: Misspell PVRblog.com and you are directed to a porn site. Type blooger.com or bloogger.com and you are directed to sites with keyword link ads. Matt Haughey of PVRblog.com says:
People aren't naturally gravitating towards just a few major sites anymore, and besides, those few major sites have prominent legal teams. So you go to the blogs, small operators with millions of visitors and try to collect the mistakes and turn them into cash somehow.
Oh joy…
Unbundling the American Mobile Industry
I just came across this excellent analysis of the US mobile industry but Damian Roskill on MediaThinking blog, which is not just for those who may be obsessed with it. It compares the mobile phone business to AOL in 1992.
Right now, they control the customer (that's definitely the way it feels) with long term contracts, hefty fees for early termination while also having the final decision what phones, content and applications will be allowed on their network.

But at some point, just as with AOL, the great unbundling of access, hardware and software will have to occur. To a certain extent, it's already happening now. I hear all the time about people buying the latest cool phone in another country and bringing it back here to the US for use on the local networks.
Damian then elaborates on the trends and issues that will force this unbundling, which focus around empending battle between networks and phone manufacturers, the internet and other applications and cost, and the appearance of other networks.
AOL continued to dominate for years after being pronounced dead for, in my opinion, one simple reason: it was too much of a pain to move your email address. Mobile phones aren't that different right now – it's still a pain to move your number (I know, I just did it). But it is also important to note that you CAN move your number. That said, this is a transition that is going to take years to play out.

But it will happen - because an open garden tends to beat a closed one.
Read the whole thing… Also, I found it via Gerlach Strategic Advisors blog FasterForward that adds its own postscriptum:
One argument that is often advanced in favor of walled garden approaches in telecom and media (as well as for the the use of intellectual property rights as a blunt instrument to try to fend off the collapse of old media business models) is that these strategies are simply an exercise of corporate management's fiduciary duty to maximize shareholder value. It seems to me, however, that the real duty of management should be to focus on the long-term viability and health of the business based on an objective of maximizing the value to all stakeholders, especially the customers. The failure to focus on maximizing value to the customer ultimately leads to the failure of the business and the destruction of value for everyone. It would seem to me that if a carrier took an alternative route that focused on value to the customer and then effectively explained its strategy to the market and provided some demonstration of its ability to execute that strategy, it might actually be able to maintain shareholder value over the near-term while maximizing its chances of long-term success. Sounds simple enough, doesn't it ; )
It's all in the mindset
or the beginning of the end of search engine marketing as we know it...?
Yahoo! just released beta of its novel approach to search called Y!Mindset. It is intent-driven search. A veritable buzzword as you have to try it to work out what it means. So, due to the buzzword alert I started sceptical but I must say I found the experience interesting and once I realised its full implications, very uplifting indeed.
The search is adjustable according to the underlying intention of either shopping or researching. Websites are evaluated by Yahoo!'s own scoring and they do not make any pretence that it's not definitive and is still evolving.
I have put in a search for one of my favourite authors, Terry Pratchett and once the search results were up I could skew them either towards commercial or non-commercials sites. This is what I got at the each of the spectrum..
Two very different searches indeed. The first is non-commercial and contains sources about Terry Pratchett and nothing but. The other is commercial and it starts with Amazon and probably lists any other site that's ever sold Pratchett's books.
Now, why do I think it has implications for search marketing? Because if you have a commercial site and try to disseminate your message using commercial gobbledygook and the usual marketing speak, this kind of search will enable people to weed them out if they are looking for information and research. This puts commercial sites right out of the 'expertise' area and opens the door for non-commercial sites that have a lot to say about things and issues but are not trying to sell anything… Make your own connections then.
So, if this sort of intent driven searching takes off (and it's a big if, as Y!Mindset is in a tender beta), it will make it very crucial indeed for companies to have blogs where they can talk about themselves and engage customers on a non-commercial level.
I shall be keeping my fingers crossed, of course.
English Cut above the rest
Now this is a fabulous blog! English Cut is a blog by a bespoke Saville Row tailor writing about suits and… tailoring and whatever else he feels like. He uses it to promote his bespoke craftsmanship and, by Jove, he's got it.
The blog is full of interesting information about bespoke as presented by someone who knows a thing or two about it. I have learnt about the different between straight and crooked suit jacket, which has nothing to do with the character of the wearer.
Thomas also gets to make his argument for the high price charged for bespoke… this is what blogs were made for. He is travelling - the US in June, Paris in July - and provides details of his journeys with the option of making an appointment. How on earth could this have been done before blogs came along? Perhaps with a help of an expensive PR agency, but inevitably loosing that personal touch and straightforwardness that I am sure transactions with Thomas have.
Carry on, tailor.
Quote to remember
What is it with these people who stick these dreadful flash things on their sites? My first impulse is rage, immediately followed by "where the hell is the 'skip' button"? What is this, a sort of corporate mid-life crisis playing out in abuse of technology?
- Amy Alkon in Jack & Hill beauty blog's comments section.
Will blogging change everything?
Not a deep philosophical question but the topic of the roundtable session on blogging organised by Netimperative last week in London. It was a good opportunity to discuss blogging not only with people who are bloggers but other who come into contact with them in their professions. There were some PR/marketing people, some consultants and a (full list is here)
All in all, it was an enjoyable event, I even managed to get a few points across. What struck me most was the debate and most of the arguments have already been had in the blogosphere proper (i.e. the first few waves before the moneyed people started to take notice). Of course, people anywhere can discuss whatever they wish, even if it had been discussed in the US. My approach has been to check if all the big pointy questions have been asked somewhere and catch up on them. What with google and RSS and technorati, it's not like one does not know where to go.
In any case, see for yourself as the digest of the debate is available.
Evening Standard headline crisis
And now for some serious journalism…
Yeah, beware of the 'consumer-generated media'. Heh.
Journalism vs blogs debate ad nauseam
Virginia Postrel wrote a couple of weeks back in Forbes.com:
Something about blogs makes a lot of respectable journalists hyperventilate. News pros seem terribly threatened by online amateurs.Blogging is a "solipsistic, self-aggrandizing, journalist-wannabe genre," writes David Shaw in the Los Angeles Times.
And hits the nail on the head by pointing out that blogging is a format, not a genre.
Generalizing about blogs is like generalizing about books. A blog is simply a Web page whose author adds new content, or posts, over time. Blogging is a format, not a genre.

....

There are blogs devoted to knitting, to the Boston Red Sox, to biochemistry, to Macintosh computers, to art criticism, to movies, to California politics, to space exploration, to dandyism--to any subject, in other words, that someone somewhere has some interest in. About the only thing blogs have in common is that their posts are arranged chronologically.
We have been saying this for some time. Blogs are a tool, versatile because of their format that leads to interconnectedness. The entire argument of blogging vs journalism is a false one and has been had in the US a couple of years back. As the waves of new 'bloggers', i.e. people who noticed blogging just now and either jumped on the bandwagon or have an axe to grind, this issue gets revisited ad nauseam. Especially in the UK, where most people whose profession brings them in contact with blogs, seem to have some aversion to googling and finding out what's going on in the US blogosphere, so far ahead of most countries.
The reason I am dragging this old (in the blogosphere terms) article is that Guardian's John Naughton wrote a good piece yesterday about the argument (in which he does not link to Virginia's article anywhere). He has his experience to share:
And it isn't just professional hacks who editorialise like this. Non-journalists who are dismissive of blogs behave similarly - and in my experience those who are most critical have rarely actually seen any blogs, and certainly have not read any serious ones. But in truth the view that 'all blogs are x' (where x = 'self-indulgent', 'vanity publishing', 'solipsistic' or whatever other term of abuse comes to mind) is as absurd as the view that 'all books are x' or 'all newspapers are x'.
It is a pleasure to read such lucid and informed points, cutting straight through the knot of the pseudo-debate:
What's happening is a small but significant change in our media ecology. All journalists worth their salt have always known that out there are readers, listeners or viewers who know more about a story than they do. But until recently, there was no effective way for this erudition or scepticism to find public expression. Letters to the editor rarely attract public attention - or impinge on the consciousness of journalists.

Blogging changes all that. Ignorant, biased or lazy journalism is instantly exposed, dissected and flayed in a medium that has global reach. (If you doubt that, ask Dan Rather and CBS.)

Conversely, good reporting and intelligent commentary is passed from blog to blog and spreads like wildfire beyond the jurisdiction in which it was originally published. This can only be good for journalism in the long run, if only because, as my mother used to say, sunlight is the best disinfectant.
More articles on the topic: Don't fear the blogger (a must read)
Defender of The Wild-Eyed Pamphleteers
Bloggers Need A Shield Law to Protect Us From Legacy Media Inanity
Laying the Newspaper Gently Down to Die
Quote to remember
There's been a variety revolution. And now we have a new definition of quality - finding the perfect fit.
- Virginia Postrel
Quote to remember
Today's permission-based, multichannel marketing is all about satisfying multiple, self-referencing subcultures with distinct value propositions—the more tightly matched to the niche, the better. What was once "Attention Headache Sufferers ..." is now "Attention Young Mothers with Migraines ..."
- Public Relations on the Internet
Some serious trendspotting…
The Future of Television by Conan O'Brien:
To begin, the trend toward larger and larger televisions will continue as screens double in size every 18 months. Televisions will eventually grow so large that families will be forced to watch TV from outside their homes, peering in through the window. Random wolf attacks will make viewing more dangerous. And, just as televisions grow larger and more complicated, so will remote controls. In fact, changing channels will soon require people to literally jump from button to button. Trying to change the channel while simultaneously lowering the volume will require two people and will frequently lead to kinky sex.
via Doc Searls
Responsible Engagement in Innovation and Dialogue
The following is the first section of IBM blogging policy and guidelines:
Whether or not an IBMer chooses to create or participate in a blog or a wiki or other form of online publishing or discussion is his or her own decision. However, it is very much in IBM's interest—and, we believe, in each IBMer's own—to be aware of this sphere of information, interaction and idea exchange:

To learn: As an innovation-based company, we believe in the importance of open exchange and learning—between IBM and its clients, and among the many constituents of our emerging business and societal ecosystem. The rapidly growing phenomenon of blogging and online dialogue are emerging important arenas for that kind of engagement and learning.

To contribute: IBM—as a business, as an innovator and as a corporate citizen—makes important contributions to the world, to the future of business and technology, and to public dialogue on a broad range of societal issues. As our business activities increasingly focus on the provision of transformational insight and high-value innovation—whether to business clients or those in the public, educational or health sectors—it becomes increasingly important for IBM and IBMers to share with the world the exciting things we're doing learning and doing, and to learn from others.

In 1997, IBM recommended that its employees get out onto the Net—at a time when many companies were seeking to restrict their employees' Internet access. We continue to advocate IBMers' responsible involvement today in this new, rapidly growing space of relationship, learning and collaboration.
Amen to that. Openness does lead to innovation and if you take care to foresee the risk and minimise it, the reward is well worth it.
Kensington - another Kryptonite?
There must be something with the combination of a letter K and a lock company… Kensington is another lock manufacturer to get their product 'exposed'. Gizmodo reported that apparently all you need to break into a Kensington laptop lock are some scissors, duct tape and a toilet paper roll. As with Kryptonite, we have a video (WMV, 7.5 MB) of someone cracking the popular laptop lock in just two minutes."
The blogosphere is 'conversing', asking about the Kensington's PR agency… Lary Borsato alerted them to the video and the 'buzz'. It took a PR wonk two days to get back to him with this stellar response (the comments following his posts are interesting too):
Hey Larry,

Thanks for getting in touch with me. I was out of the office the past two days, so I didn't get your e-mails until this morning. I appreciate your input. We've seen the video, and we're producing a response.

We've found that the affected products are limited to a small batch of locks, and Kensington is offering replacements for those. I'd like to hear about any more insight you can offer.

Thanks Larry.
Note the we're producing a response bit! I mean assuming Larry wasn't the first one to contact them, just how many days does it take to react to a product meltdown?! Given such profound lack of agility and understanding of 'public relations', it's good to see the PR firm being named, it's Connecting Point Communications. And nothing really happens here. On the bright side, Steve Rubel coins a new verb in PR: Kensington Lock Kryptonited.
Amazingly, The GadgetGuy blogged about such lockpicking (both Kryptonite and Kensington) last year. Maybe the blogosphere is not fast enough too. Faster, blogs, faster.
Bloc notes
Loic tells the blogosphere that the French have decided what to call 'weblog'. Journal Officiel has given an official translation to the word weblog:
"Weblog" should be in French "Bloc Notes"

Literally, "Bloc Notes" in english translates back to "Note Pad".

The "Journal Officiel" even thought about a short version, equivalent to "blog", it should be "bloc" which should translate back to "pad".
Blogs are what we call them, not what we are told to call them. If the French official organs can't get that, then they do not understand the nature of what they are trying to define and prescribe.
UK's first 3G mobile blogging service
3, the UK's first video mobile network, announced the first mobile blogging service.
3's My Gallery is set to transform blogging from a 'geeky' hobby to a mainstream communication method. The immediacy of this type of web publishing means that people can comment instantly as it happens, on the move.
That's marvellous. But what do I read here:
Both public and private My Gallery sites are fully interactive allowing visitors to 'blog' their own comments.
Interesting, I thought that one blogs one's thoughts, ideas, stories and other comment on the blog. Blogging is generally associated with the owner of the blog, not the visitors. But let's not be pedantic… it has the magic word 'interactive'.
To set up a My Gallery site, customers simply send a picture or video message to "3333", charged at a standard rate, they then receive a password via SMS to manage their blog site.
Ah, so 3 is charging a lot of money as picture and video messaging cost a bit - one of the main reasons I imagine why people do not use it so much. This is in direct opposition to Lifeblog, a Nokia moblogging application that allows you to blog directly from your mobile (via email, not picture messaging) and your PC (via a desktop application) using Typepad as the publishing tool. Works great and comes as a blogging application first rather than an expensive attempt at 'interactive' - and expensive - mobile data services…
Condescending to the 'pioneers'
David Weinberger has a reply to the Boston Globe editorial that breaks out in the MSM condescension in the last paragraph.
It must be a little daunting to the bloggers — something like what happens when a funky neighborhood with a sleeper reputation becomes gentrified by a parade of new arrivals. The hope is that fresh voices will survive — that the outraged theory-busters and hole-pokers will keep changing the ways that society talks about itself. Like voting, protesting, and debating, blogging can be a key ingredient of democracy. The trick is for the blogging pioneers to take seriously their responsibilities to the town square and resist trashing it with self-indulgent graffiti. That would improve the neighborhood for everyone.
Joho the blog does not mince words:
Once again, the mainstream media feels it must lecture us "blogging pioneers" (when there are more than 10,000,000 of us, do we still count as pioneers?) about "taking seriously" our "responsibilities." We are told that we have to resist our urge to trash the town square, to spray it with graffiti, to be self-indulgent. We "pioneers" should be more like the newbies who are gentrifying our little village…

Note to Globe: You, Huffington, Walter Cronkite, the NY Times and the Mayor of Reading are all welcome in our blogosphere. But your concern that your high-toned bigness might just drown out our wee voices is misplaced. The blogosphere isn't a town the professionals can buy up; it's an infinite landscape that will have towns of every sort. We little, irresponsible bloggers are going to continue to find one another and delight in one another. And now and then we're also going to drop in on the upscale respectable towns — well, not the gated ones, of course — and, yes, sometimes we'll be carrying cans of spray paint. But we damn well will not be daunted.
Quote to remember
...we're living in a world where customers will only become more and more independent and self-reliant. And — even more importantly — that they can often supply themselves. What they supply may be facts about your company and your products. Or it may be new products that render optional (though not unappealing, which is the saving grace) the whole commercial supply side, as we see happening with free software and open source development.
- Doc Searl IT Garage, Relating to Customers
Quote to remember
Everything we hear about the lives of porn stars is filtered, and the people in porn are never allowed to speak for themselves," Blue said. Blogs are "going to turn the paradigm on its head. No one is telling (porn bloggers) what to say. No one is filtering them. They're publicly thinking about their lives, writing about their lives, and that's something our culture has never been exposed to, ever, in history.
- Violet Blue, of Tiny Nibbles blog in Wired article Porn Valley Goes Blogging
Quote to remember
I paid someone way too much money to develop our Web site, and then I had to argue and fight with them every time we wanted to change something. Now with the blog, I just grab my computer and write up the stuff we're talking about every day in the restaurant—the Red Sox, the weather, the ski conditions.
- Ben Williams, co-owner of the Horsefeathers restaurant in North Conway, N.H.